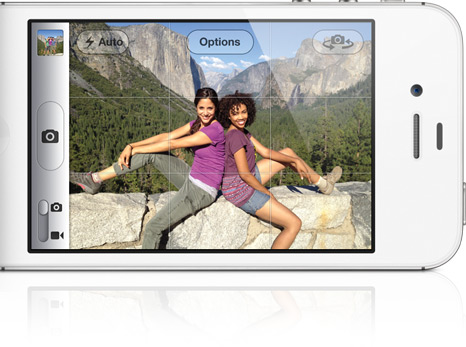 Well, the wait is over, folks. Apple's new CEO has unveiled the next generation iPhone — the iPhone 4S. Aesthetically, it's the same design as the iPhone 4 but if you look under the hood, you'll see it's packing some new components that will surely blow the competition out of the water. It featuers the same dual-core A5 chip that debuted in the iPad 2 and its dual-core graphics processor gives 7 times the graphical performance of the iPhone 4's A4 chip.
Battery life has been beefed up substantially to 8 hours of 3G talktime, 14 hours of 2G talktime and 6 hours of 3G web browsing. The iPhone 4S's wireless system switches between antennas for optimal performance to improve signal and double the theoretical max speed from 7.2 Mbps of the iPhone 4 to 14.4 Mbps on the iPhone 4S. The iPhone 4S is a true world phone as it supports both GSM and CDMA networks. The camera has gotten a monster upgrade as it is now 8 megapixels and has a five-element lens that leads to photos that are up to 30 percent sharper than its predecessor. The iPhone 4S also shoots in true 1080p HD video and boasts video stablization and noise reduction.
Siri is also featured on the iPhone 4S. It's an "intelligent assistant" that enables voice recognition of voice queries and commands.
So here's how it's going to happen — the iPhone 4S will be available for AT&T and Verizon as well as Sprint on October 14th in US, Canada, Australia, UK, France, Germany, and Japan, with pre-orders starting on October 7th. 22 more countries will get it on the 28th and 70 more on top of that by year's end. Pricing with a two-year contract goes from US$199 for 16 GB to $399 for 64 GB.