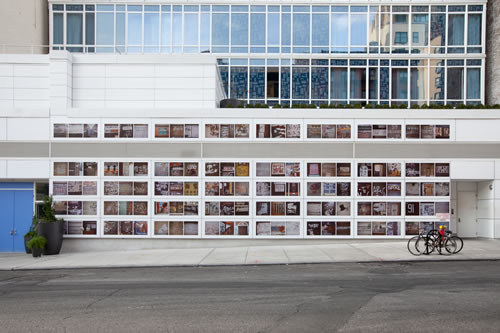 Starting today, the wall of the Mondrian SoHo in New York features a permanent outdoor installation of photographs by Sol LeWitt, entitled: SOL LEWITT: On the Walls of the Lower East Side. The installation consists of 120 photographs of New York's Lower East Side shot by LeWitt in 1979. The grid is grouped in threes that have been printed on vinyl and installed on a wall measuring 20-feet high by 60-feet wide. The Sol LeWitt installation is by the Lafayette entrance to the hotel and is a completely new venture for the Morgans Hotel Group as they launch a new initiative to further enhance the guest experience through their relationship with art.
Photo Credit: ©Estate of Sol LeWitt / ARS. Courtesy Paula Cooper Gallery, New York
Mondrian SoHo, 150 Lafayette Street, New York, NY.