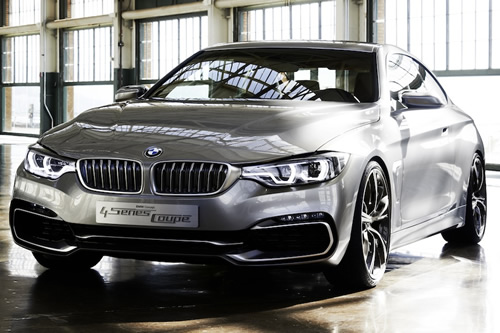 Ahead of the 2013 Detroit Motor Show comes an official unveiling of the BMW 4 Series Coupe Concept. The German automaker's decision to shift the 3 Series Coupe and Convertible over to the 4 Series badge has been in the works for quite sometime and here we are. Aesthetically, don't expect the official 4 Series to be much different than what you're seeing here as BMW is known to make little or no changes between concepts and their production model counterparts. Dimensions are shifted ever-so slightly with the new 4 Series Coupe sitting on a wheelbase that is 50 millimeters longer than the current 3 Coupe, and will be 44 mm wider and 16 mm lower.
BMW's Reasoning for the "4" below.
The '4′ doesn't just mark the start of a new cycle, it represents the zenith of a development curve. BMW has given the new model its own individual character and a standalone design – and, in so doing, has turned '4′ into segment shorthand for aesthetic and dynamic appeal. The latest addition to a nomenclature that sees BMW building on the fine tradition of its large BMW 6 Series and BMW 8 Series Coupes, the '4′ stands for greater sportiness, greater exclusivity and even clearer differentiation from the BMW 3 Series range.