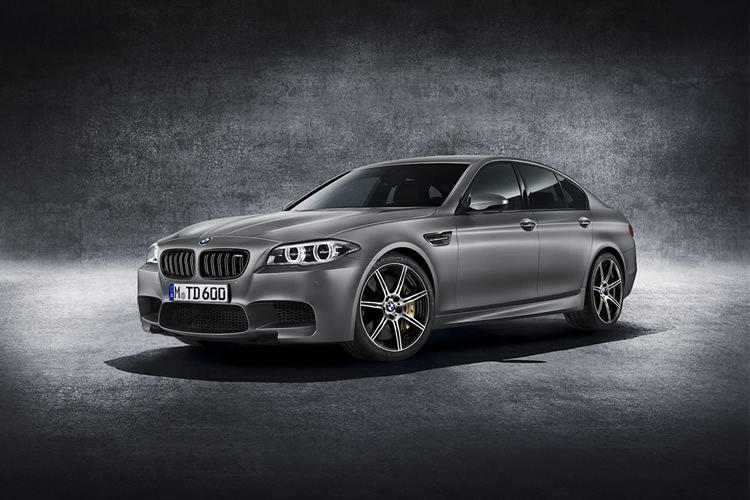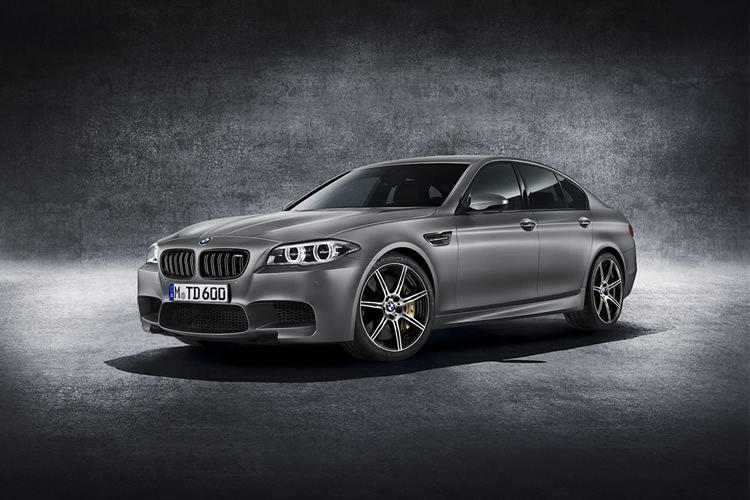 BMW has announced the 30th Anniversary Edition BMW M5. The BMW M5 "30 Jahre M5" (German for 30 years of the M5) will be produced in a limited run of 300 worldwide, with 30 of them making it to the United States. Performance is upped to 600 hp and 516 lb-ft of torque, making it the most powerful M5 and the most powerful BMW production model ever sold. The 30 Jahre M5 gets a dedicated control module that allows the Active M Differential to react sooner and improve the traction when exiting corners. This beauty also adds an improved M-specific Servotronic function as well as an improved M Dynamic mode, allowing for full potential of the increased power and traction. 0 to 60 mph time has been estimated at 3.7 seconds.
This limited edition powerhorse gets a Frozen Dark Silver Metallic exterior and Black Chrome "30 Jahre M5" badges on the kidney grill surrounds, front fenders, door handles and twin dual exhaust pipes. You can also see "30 Jahre M5" insignia on the interior, with a 1/300 identification number integrated into the Aluminum Trace trim strip on the front passenger side of the cockpit. Other fine enhancements include a black Alcantara/Leather combination on the M multifunctional seats which also include embroidered "30 Jahre M5" badges. The center console and the door panels are also covered in black Alcantara, while the headliner features Alcantara Anthracite.
Purchasers of a 30th Anniversary Edition BMW M5 will be invited to a one-day M Driving School at The Thermal Club, a private motorsports facility in Palm Springs, CA. Getting a 30th Anniversary Edition BMW M5 won't be easy though. Starting at $138,275, the first 29 copies will be offered to the first 29 customers who reserve it by dialing the dedicated BMW Customer Relations hotline at 1:00pm EDT, on Wednesday, May 21, 2014. The hotline for the US orders will be revealed via BMW of North America's Instagram channel (@BMWUSA) over the five days leading up to May 21, beginning on Saturday, May 17. As for the 30th copy of the Anniversary Edition, it will be retained by BMW of North America, LLC, and may be sold at a later date.