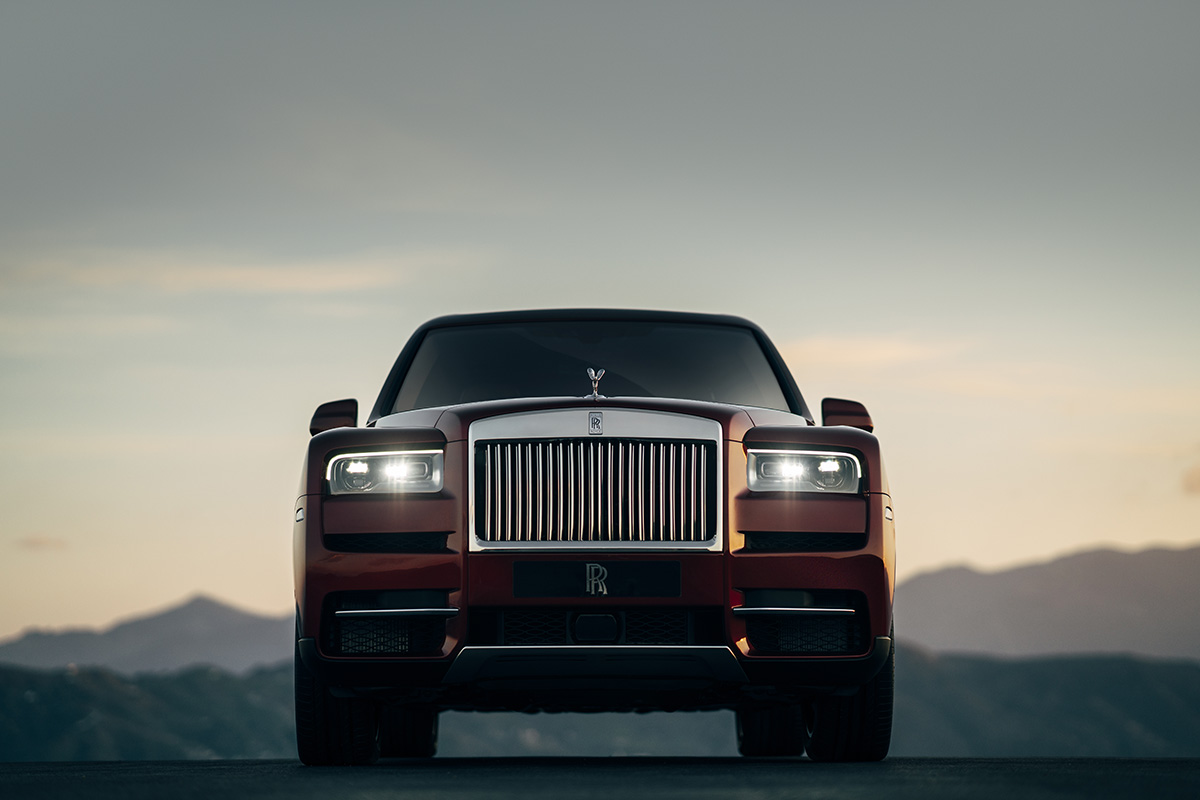 The Rolls-Royce Cullinan Is Here, An SUV That Takes You Anywhere In Ultimate Luxury
With the Rolls-Royce lineage comes a long-standing history of ultra-luxury vehicles that know how to make their presence felt. And now, with the iconic brand embarking on a new milestone, its latest creation aims to do just that. The Rolls-Royce Cullinan is an SUV in conventional terms but aims to bring more than additional utility. An all-terrain high-bodied car, the Cullinan promises to deliver versatility, comfort, and the capability to tackle any challenge your journey might bring.
The aggressive front of the Cullinan is unmistakably a Rolls-Royce with its pantheon grille and 'eyebrow'-like daytime running lights. That grille's made from hand-polished stainless steel while the Rolls-Royce badge and Spirit of Ecstasy ride significantly above the line of the wing. Get to its side, we see the long bonnet profile and the raised roofline dropping away just over the B-pillar that brings attention to the protruding boot lid, reminiscent of the D-Back Rolls-Royces of the 1930's, some of the last of the marquee to still carry their owner's luggage on a shelf outside the car.
That was a time when passengers didn't travel with their belongings. But the Cullinan's three-box approach brings this back by introducing a glass partition wall between the rear passenger compartment and the rear boot. You can open and close this partition at will but when closed, it allows for temperature control and a much quieter cabin. The rear passenger seating can be customized to meet the demands of its particular owner, allow him or her to go with either the Lounge Seat or Individual Seat option. For families, the lounge seats might make the most sense as that'll turn the Cullinan into a proper five-seater while the Individual seating arrangement brings with it a drinks cabinet with Rolls-Royce whisky glasses and decanter, champagne flutes and refrigerator. The Individual seats also move in a number of planes to offer ultimate comfort whilst traveling in the rear. The Lounge seats also fold down, allowing owners to make full use of the boot area for transporting larger items like that new art piece you just picked up from Sotheby's.
This all takes place inside a cabin that is as luxurious and bespoke as we've come to expect from Rolls-Royce with detailing and tailored execution that's sure to delight. The amount of function at play here is truly tremendous. Every bit is about allowing all passengers to experience life in an effortless, meaningful way. The rear seating actually sits higher than those in the front, giving folks in the back unrestricted views when coupled with the Cullinan's panoramic glass roof. USB charging and even wireless charging is found in the Cullinan as well so you can stay powered up at all times. You can stay connected as well with WiFi Hotspot.
If the Rolls-Royce Cullinan avoids one thing, it's compromise. For owners and their passengers, this is a vehicle that doesn't make you pick between this or that, on-road comfort or off-road capability, and so on. With the 6.75 litre twin-turbo V12 under the hood, we get a 563 horsepower, 627 lb./ft. of torque all-wheel drive, all-wheel steer system that can't be argued while the all-new aluminium 'Architecture of Luxury' promises to bring with it Rolls-Royce's 'Magic Carpet Ride' for off-road enjoyment, without sacrificing any Rolls-Royce on-road behavior.
Priced at $325,000 USD to start, you can check out the Rolls-Royce Cullinan in the gallery up top and stay tuned for more release info as it becomes available.