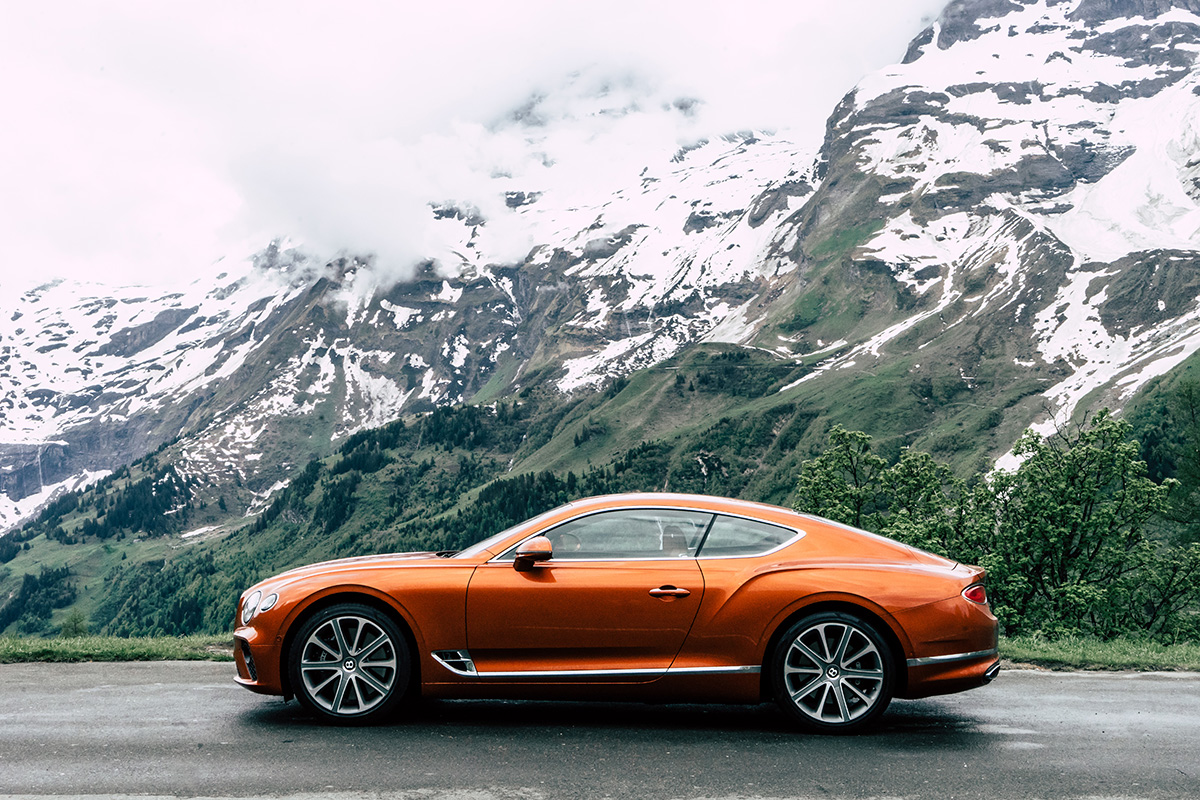 The New Bentley Continental GT, The Austrian Alps, And A Lesson On How Not To Rest On Your Laurels
Photos by Atif Kazmi for Por Homme
I recently heard someone say that people who rely on who they are as opposed to what they do become very banal. I could've sworn they were referring to some of the world's most iconic auto brands. With any major global unveil, you tend to wonder — is this where we'll see these guys throw it all away? I'd be lying if I said that didn't cross my mind as I was being chauffeured by Bentley from Munich Airport to the Kitzbühel Country Club in Austria, the beginning of my time with the new Bentley Continental GT.
Enter the Club's courtyard and we were greeted by the third-generation GT standing confidently alongside its two predecessors from 2003 and 2011 as well as the 1952 R-Type Continental, the luxury grand tourer that inspired the Continental GT of the modern Bentley era. A W12 engine, all-wheel drive handling, and an effortless balance between bespoke automotive luxury and performance, these were the ingredients the folks in Crewe mixed to create what is one of the most iconic vehicles of the last twenty years and beyond.
The Austrian Alps made for a wondrous backdrop while the unforgiving Grossglockner High Alpine Road was on our route, and undoubtedly the highlight of our driving experience. There's a reason we were here instead of, say, Rodeo Drive. Here, we could see just how agile this new GT truly is and how the wow factor's a lot closer to the previous generation's range-topping Supersport than anything else. From the heightened level of detailing throughout the interior to the way it breaks through bend after bend, the bar's been raised and Bentley's showing no signs of letting up.
This is the most drastic redesign we've seen for the Continental GT but the designers' high risk seems to have paid off as we're getting a grand tourer that looks ahead without losing sight of its heritage and its muscular haunch and swooping roofline. The all-aluminum shell is crafted using aerospace manufacturing techniques to give us a car that looks as good in motion as it does in a standstill. And one that can perform and make use of all 626 horsepower.
Every hour I spent with the new Continental GT revealed something about the car I didn't previously know. From the cut-crystal inspired head lamps that feature something like 82 individual LEDs to the 18 months that were spent developing the new "diamond in diamond" quilting embroidery pattern, there are so many unassuming details that make you appreciate all the intricacies of design, well beyond its use cases in automotive.
Bentley did throw some things away as the latest Continental GT features new electronics, a new engine, and a new chassis. The mating of all three is what helps to deliver an ear-to-ear smile, to old Bentley Boys and new. And though plenty of new Bentley Continental GT's will end up in Beverly Hills, buyers can drop that $214,600 with confidence knowing that it can do a lot more than turn heads.