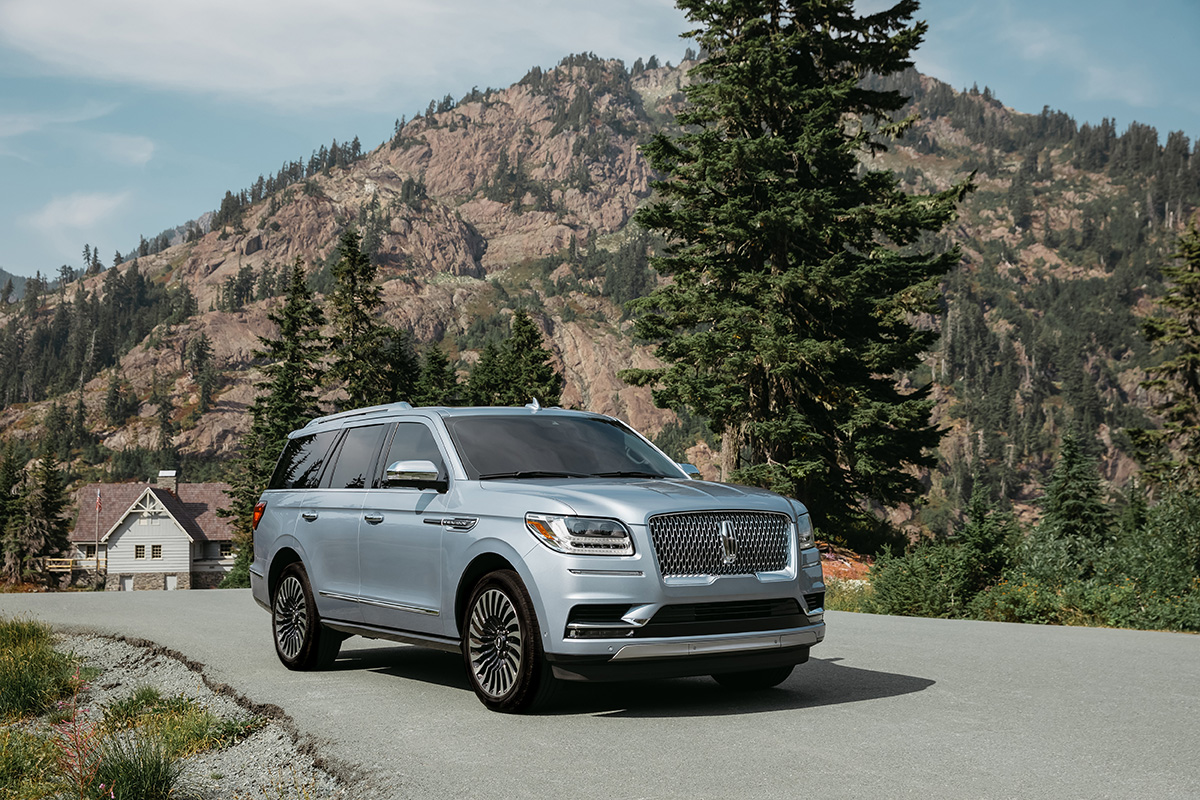 Lincoln recently introduced the all-new Navigator, a full-size SUV that aims to bring together luxury with advanced technology to elevate the driver and passenger experience. I had the opportunity to spend some extended time with it during a recent trip to LA. I honestly didn't know what to expect. It's been a while since I step foot inside one, though I was in attendance for the unveiling of the Navigator Concept a short-while back. But concepts and the vehicles that end up on the road tend to be worlds apart. And before the concept unveil, it had been ages. What I did know was that the brand went through a massive soul searching mission and the 2018 Lincoln Navigator was our first look at the future of Lincoln. Now, a year in, I got to see the Navigator settled into its return and one that will undoubtedly shift everything we thought we knew about Lincoln.
For one, Lincoln's cut the bulk here, crafting the new Navigator from a high-strength aluminum alloy body that makes the car almost 200 pounds lighter than its predecessors. The extra weight has been put towards improved towing capability and quietness but while driving, it felt impressively nimble for a full-size SUV. Under the hood is a 3.5-liter twin-turbo V6 engine that provides the car with 450 horsepower and 510 pound-feet of torque. That power is delivered through a 10-speed transmission with Lincoln's SelectShift technology.
The car is able to comfortably seat 8 passengers and boy did it. Even through all of Lincoln's ups and downs, what always stood out about Lincoln was its ability to deliver effortless comfort. Its Perfect Position driver and front passenger seats are customizable 30 different ways and they have a slim profile, which translates to more space for folks in the back. Passengers in the second row have their own controls for air and audio, and the third row comes equipped with power reclining. The interior is the roomiest of its class, making travel as comfortable as possible.
There's a good level convenience at play here, especially with the technology the Lincoln Navigator's packing. There are six USB ports, four 12-V power outlets, one 110-W power plug, and a wireless phone charger so every passenger can easily stay connected. While others were taking over the USB slots and power outlets, I just quietly placed my phone on the wireless charging bay. Oh and WiFi comes standard, giving up to 10 devices access to the web. There is also a rear seat entertainment system that allows for wireless Android streaming as well as traditional connections, and those who own a Slingbox can access their TV channels on the go; each screen in the rear of the car is able to play something different which means everyone gets to be happy. It's actually crazy when you think about how much thought Lincoln's put into details like this.
The interior comes equipped with 20 Revel® Ultima speakers that have three distinct listening modes: Audience, On-Stage, and Stereo. The speakers have been designed to work with the acoustics and design of the Navigator so that clients can have an incredible audio experience.
There's a 12-inch customizable instrument cluster, meaning drivers can pick and choose what they would like to see displayed. Blend that with the optional windshield Heads-Up Display and you've got one more canvas that you can toss crucial info to, letting you focus on the road. One of the biggest distractions can be a center touchscreen that requires 30 presses to work. That's not the case here. The design elements are modern yet minimalist and the touchscreen's as good as an iPhone's and that says a lot.
There are a lot of subtle details and integrations that put this well ahead of any other full-size SUV on the market. Lincoln Embrace senses when you're approaching your navigator. Autofold side mirrors come back, project a signature logo on the ground, door handle areas glow, and front and rear running lamps illuminate. The power-deployable and illuminated running boards all light up while the illuminated grille might be one of our favorite elements of Lincoln Embrace. Talk about commanding attention.
For what we've known Lincoln to be, the Navigator is a massive departure and a much welcomed one. And if it's any indication of the things to come, then we're all for it.
The 2019 Lincoln Navigator is available now, starting at $73,205. For more information, head to Lincoln's website or stop in at your local Lincoln dealer to see it in person.