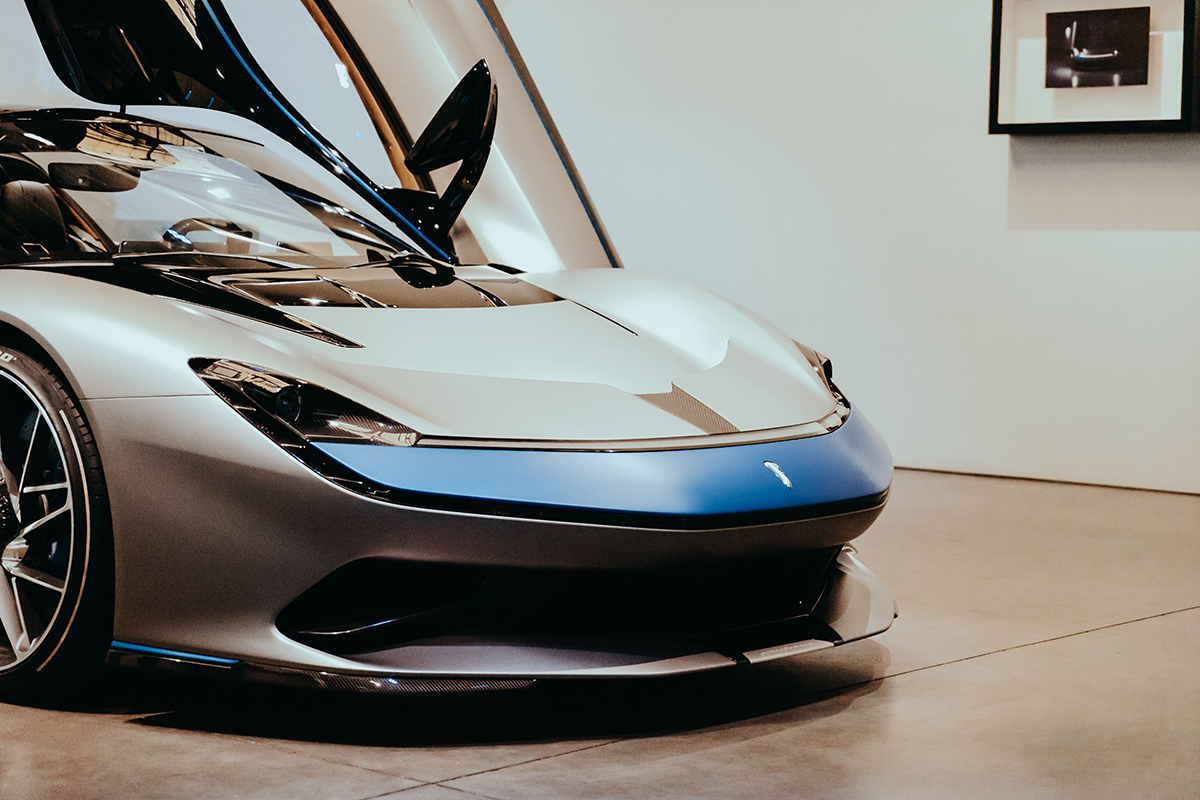 Welcome to New York | Breathtaking, All-Electric Pininfarina Battista Captured During Official US Showing
Photos and words by Atif Kazmi for Por Homme
The past few years have been interesting for Pininfarina to say the least. After being bought by Mahindra Group, the design house has doubled down on their consult business that's churned out some of the most iconic vehicles in history while also creating a stand-alone sportscar company — Automobili Pininfarina. The first of their creations is the Pininfarina Battista, an all-electric hypercar that blends performance, innovation, and sustainability to redefine how we ultimately define luxury. It was officially unveiled just a few months back but finally made its way stateside last week.
The car market's currently facing a ton of disruption but the majority of purely electric options out there have proven one thing — it's tough for luxury brands to be truly sustainable. Brands are aiming to re-mask sustainable offerings to be luxurious but they're missing the mark. Sustainability needs to be looked at more holistically where you can deliver a unique experience that's authentic to the brand while also minimizing our carbon footprint. For Pininfarina, sustainable means you're creating something that's emission free, guilt-free and uncompromising. And when it comes to luxury, the Battista is an extension of everything Pininfarina's design work has represented when creating vehicles like the Ferrari 250GT Berlinetta Lusso and Enzo.
The early numbers speak for themselves — 1,877 bhp and 2,300Nm of torque help to propel the Battista from 0-100kmph in about 2 seconds, 0-299 kmph in 12 seconds before topping out at 349 kmph. A carbon-fibre monocoque chassis with aluminum crash absorbers at the front and rear along with majority-carbon fibre body panels help to keep things light.
Raise the doors and you're met with an interior that's just as refined as the exterior. The iteration we saw in New York featured both camel and black leather detailing throughout, carbon fibre trimmings on the dash, center console, as well as the flat-bottom steering wheel. Two screens sit behind the steering wheel and reaffirm the cabin's driver-centric layout while hand-stitched elements on the seats, center console, and dash remind us just how much attention to detail Pininfarina is dedicating to every inch of their first creation.
It's a limited-production hypercar — 150 will be made in total with an even allotment split between Europe, the Middle East, and America — that will undoubtedly turn heads no matter the continent, country, city, avenue, or boulevard it journeys. Even at stand still, it's capable of taking your breath away and that you simply can't put a price on.
Check out the Pininfarina Battista from its US showing in the gallery above and stay tuned for more news around its release in the months ahead.