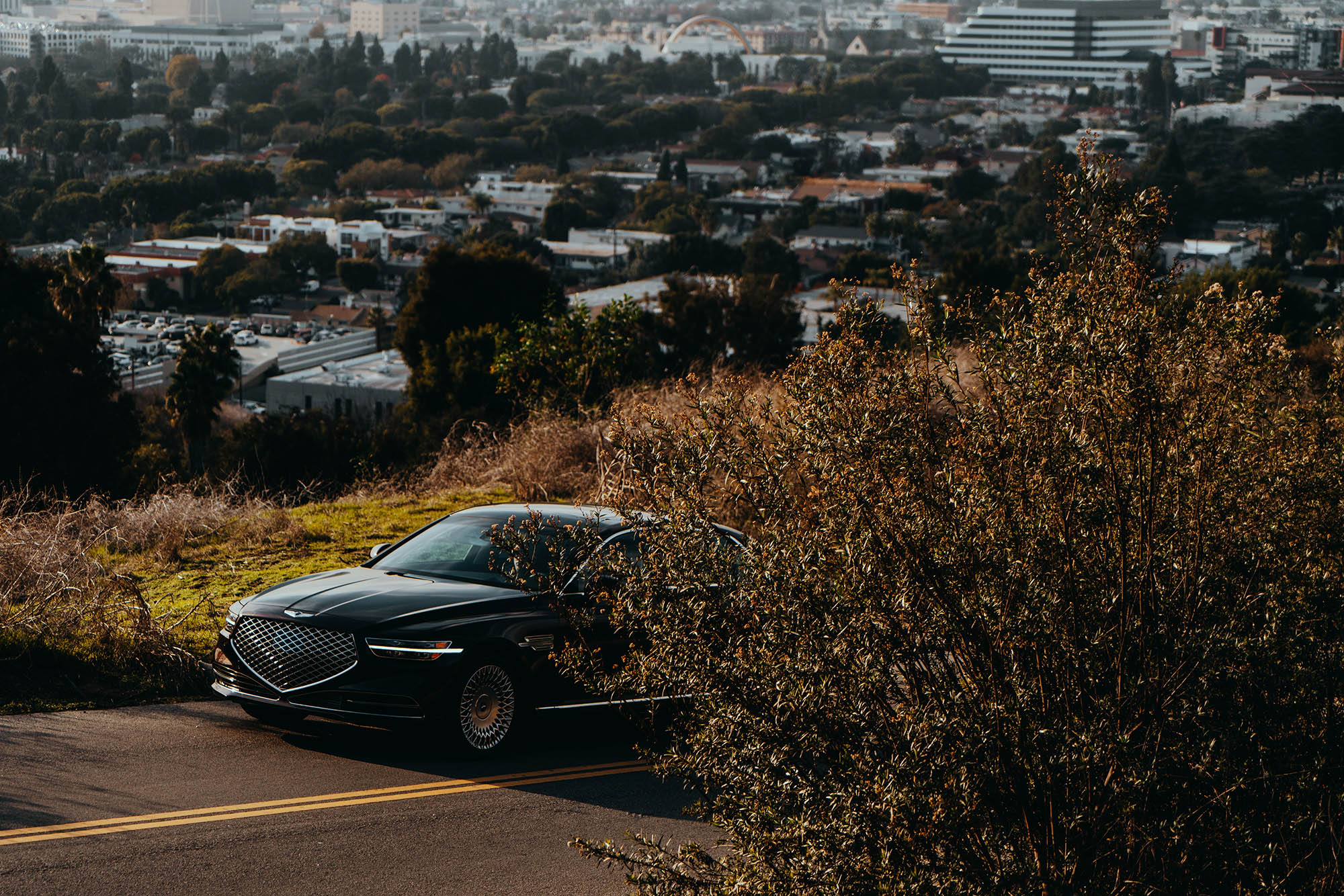 2020 Genesis G90 | First Taste Of Brand's Future Is Like A Meal At LA's Vespertine
Photos by Atif Kazmi for Por Homme
Great things take time and for Genesis, the time is now. For what should be a mid-cycle refresh, the automaker's given us a 2020 G90 that looks nothing like its predecessor. They clearly know something we didn't — how good the rest of the Genesis lineup will look in the months ahead. More on that soon but let's talk about the G90 for now. We took a trip to Los Angeles to experience it firsthand while also soaking in a bit more of what the Genesis brand embodies. It's the brand's flagship sedan and carries with it tremendous ambitions and signs of things to come.
The biggest changes can be seen on its exterior, with updated styling that aligns with the brand's future design language. The brand's new "crest" grille makes a debut here, a wider, more angular execution with open cross-mesh finishing that demands a close-up. The front's also got a new hood atop new quad headlamps and horizontal lower ducting. Front fenders continue this conversation with chrome detailing and lighting strips that follow the lead of the headlights. Walk to the rear and you're met with horizontal taillamps, one of which runs the width of the car. Its proportions are the same as the outgoing run but the design team's execution has it looking a lot more present. Second to Alpina's signature multi-spoke design, these might be the best looking wheels to land on any luxury saloon in recent memory. There's something timeless about what Genesis is doing with their new design language and we're all for it.
Step inside the Genesis G90 and you're met with a 12.3-inch infotainment screen accented with copper detailing. It comes with over-the-air updates as well as Apple CarPlay and Android Auto. For driver assistance, lane-follower assist, rear cross-traffic and forward-collision alert system are all on board here. Safe Exit Assist is one of our favorite features and possibly the most important for city drivers, giving an audible alert for pedestrians or cyclists flying by.
The focus for the Genesis G90 is and should be on comfort and convenience, delivering both effortlessly to those driving and to anyone being driven in the rear. While the tech delivers the convenience and can help to make the experience more personal through various settings, comfort is a lot harder to nail. Somehow, the G90's managed to do it. Genesis has worked with a panel of orthopedic surgeons to get the seats right, even allowing the positioning to be optimized by inputting your height and weight into the screen and letting the G90 do the rest.
The 2020 Genesis G90 comes in two trim levels, with the 3.3T Premium leveraging a turbocharged 3.3-liter V6 with 365 horsepower, and the 5.0 Ultimate coming with a naturally aspirated 420-hp 5.0-liter V8. Both are paired to a smooth, eight-speed automatic transmission. Rear-wheel drive is standard here but you can opt for all-wheel drive in either trim level.
Getting reservations at Jordan Kahn's Vespertine isn't easy but during our time with Genesis in LA, we got an opportunity to sit in for the tasting menu experience. Transportation to and from the restaurant was of course in G90's, this time cozying in to the rear seat experience as we floated through LA traffic. On the way to Vespertine, most of my time was spent trying to imagine how the evening would play out. The number of courses, possible ingredients, and just how Jordan and his team intend to wow us. As we exited and made our way back into the back of a G90, it was mostly a moment of reflection. The evening was about disruption and directing the dinner through precision. When thinking about the G90 and how they're preparing us for what's to come, they're doing it with just as much risk and meticulous execution.
Pricing for the 2020 Genesis G90 starts at $73,195 and goes on sale this month. See more of it in the gallery above and head to your local showroom to experience it for yourself.