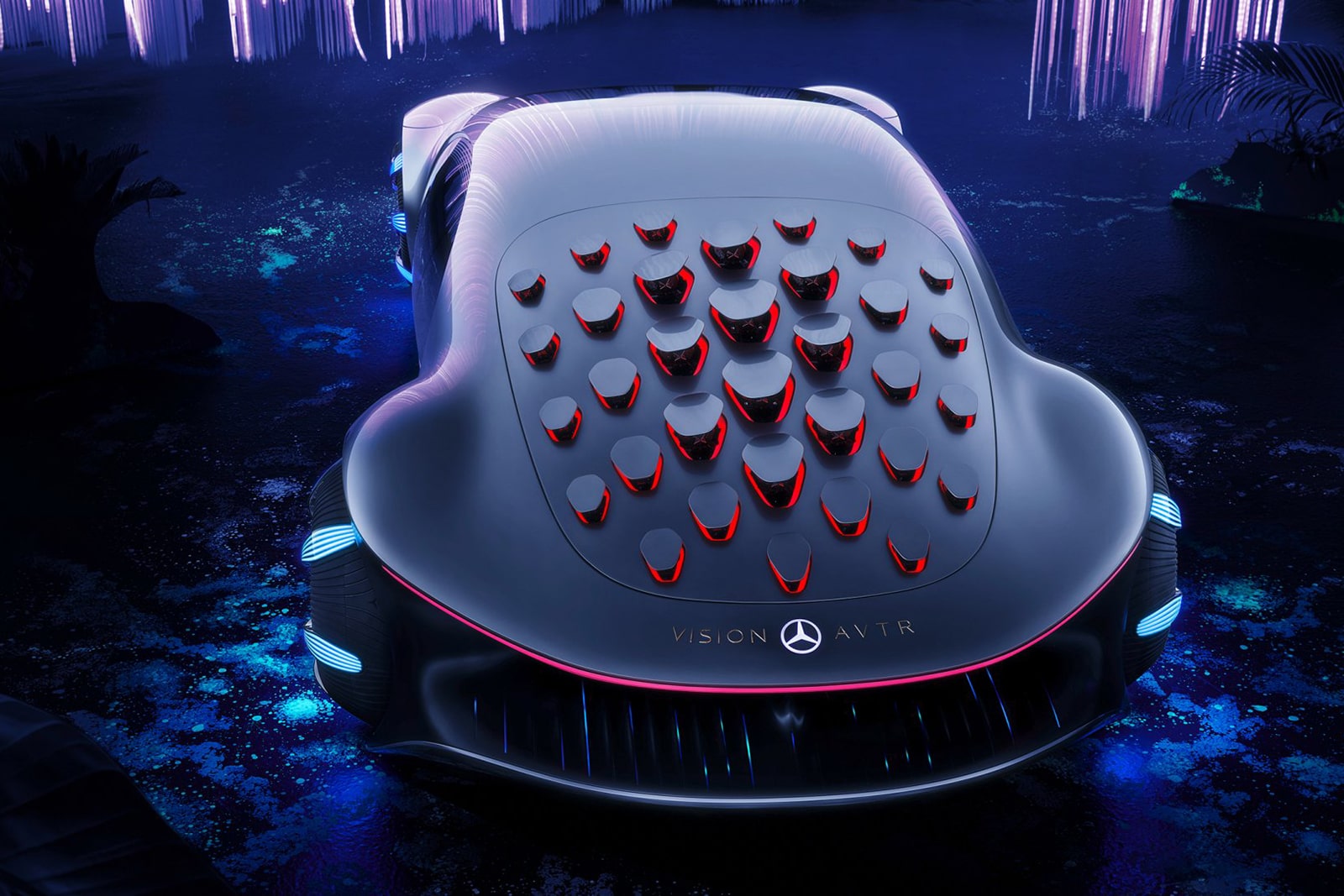 Mercedes-Benz Vision AVTR is a Curvy, Screen-less, All-Electric Concept Car Made for an Autonomous Future
At CES 2020, Mercedes-Benz has shown off the Vision AVTR, an all-electric concept car that's inspired by and named after the James Cameron-directed "Avatar" film series. The AVTR, which stands for Advanced Vehicle Transformation, looks ahead to an autonomous future. The zero-emission vehicle features four high-performance electrics, one by each wheel. Combined power comes in at more than 350 kW and allows for intelligent, full variable torque distribution. Four-wheel driving allows it to move sideways by approximately 30 degrees, in contrast to conventional vehicles. The 'crab movement" delivers a reptile-like capabilities, even beyond the bionic flaps you see on its rear.
The AVTR is a fully immersive experience, connecting passengers and the outside world through the curved display module which replaced a conventional dashboard. Real-time 3D graphics show everything that's happening on the road and more. Three wonders of nature – the Huangshan Mountains of China, the 115-meter-high Hyperion Tree found in the United States and the pink salt Lake Hillier from Australia – can be explored in detail. Passengers become aware of various forces of nature that are not normally visible to the human eye, such as magnetic fields, bioenergy or ultraviolet light. To Mercedes-Benz, ultimate luxury in the future comes as a fusion of human and nature through technology. Enter the car and the AVTR is immediately an extension of your own body and a tool used to discover the world around us.
Where electric batteries have become a point of discussion on their true rate of sustainability, the VISION AVTR's battery tech is based on graphene-based organic cell chemistry and helps to eliminate rare, toxic and expensive earths such as metals. The battery's also 100% recyclable due to its materiality. Inside, the seats feature vegan DINAMICA leather, the first and only microfiber that guarantees sustainability throughout the entire production cycle, having been recycled from old clothing, flags, and PET plastic bottles.
See more of the Mercedes-Benz AVTR in the gallery.