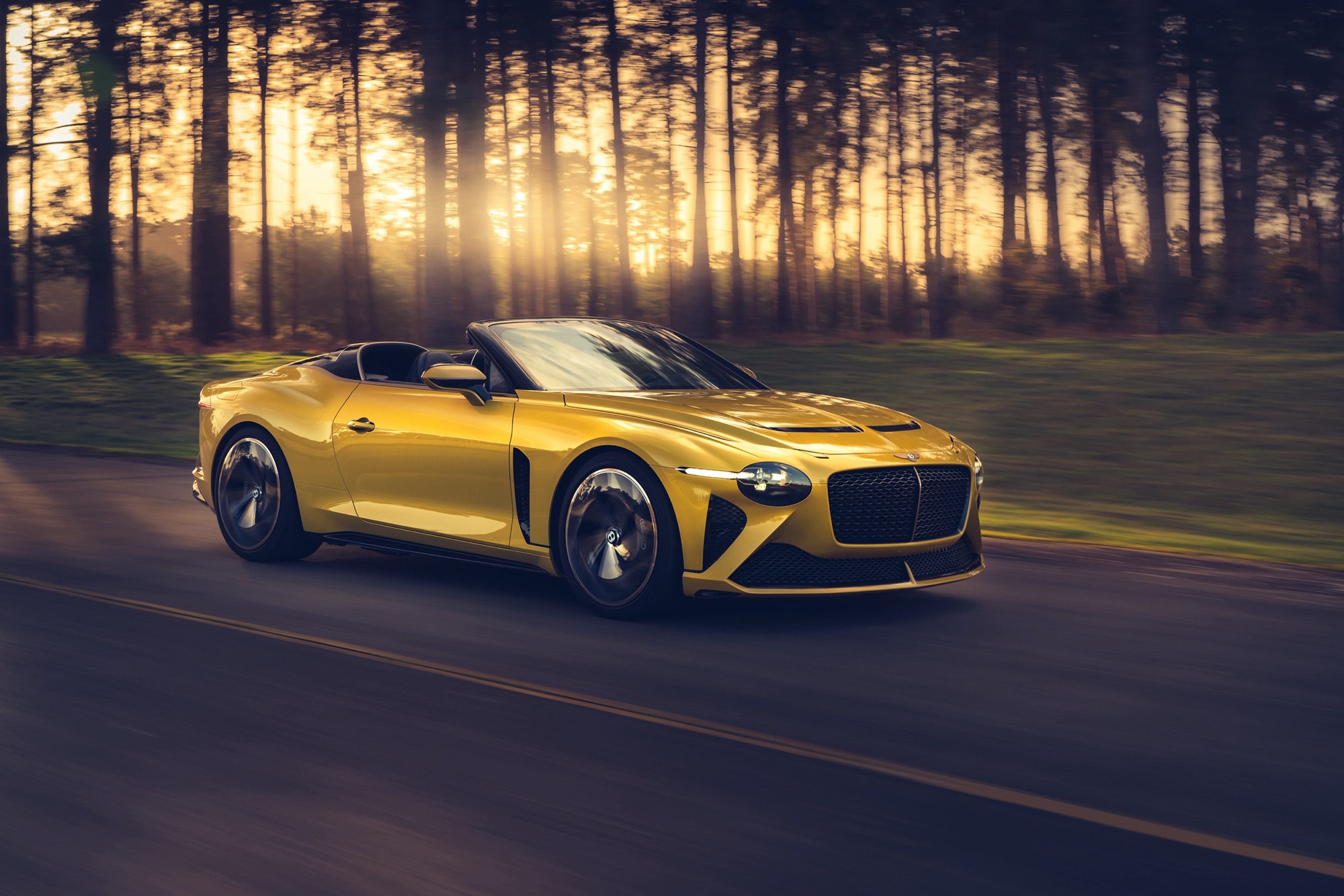 Resting Beast | Bentley Mulliner Bacalar is a Coachbuilt Two-Seat, Open-Air Grand Tourer
With the introduction of the Bentley Mulliner Bacalar, the British automaker's showing off its storied history of coachbuilding and turning heads while doing it. It follows the Barchetta design language, delivering this hyper-exclusive grand tourer with a two-seat, permanently-open-air experience. The details are immense with much inspiration coming from last year's Centennial concept, the EXP 100 GT. Named after Laguna Bacalar in Mexico's Yucatan peninsula, the rare speedster's looks are as breath-taking as views from the lake.
It looks like it can move mountains and the power under the hood backs it up. The enhanced 6.0-litre W12 TSI engine churns out 650 HP and 667 lb.ft of torque. and is mated to a dual-clutch, eight-speed transmission. There's an advanced Active All-Wheel-Drive System which varies the torque split between front and rear wheels, adaptive chassis and air suspension to give the Bacalar a true grand touring experience.
Just twelve examples of the Bentley Mulliner Bacalar will be produced. Each element is done in a completely bespoke manner and more as a collaboration between the future owner and Bentley Mulliner than anything else. Nothing's off limits as Bentley Mulliner makes full use of their resources. In speaking with Bentley Design Director Stefan Sielaff, the muscular and brave design of the exterior was definitely a topic of discussion. He sees the Bacalar as a "resting beast" which says all it needs to about what Bentley was envisioning when they started sketching this out.
When you look at the front, you have the matrix grille but in a more three-dimensional form and a little bit more attacking as well. And instead of four headlights, we've got two here. The rear lights are also much like the ones we saw on the EXP 100 GT with that explosive design structure within the lights. The wheels are as expressive as the body and complement the Bacalar's Barchetta design perfectly. The beautiful thing about this being such a small production is that if a customer says they want to redesign something (even the wheel), Bentley can help to sketch out a rework and bring it to life.
But why this over a convertible or any other segment? Stefan mentions the aim was to do something special for these select customers.
We wanted to do something extreme because it was very clear that these twelve customers will be collectors. They want something special and if you want something special you have to do something extreme. A two-seater with no roof is in our tradition. It's more or less the juxtaposition to the Birkin Blower we are doing on the Classic side. Again, a two-seater without the roof. In a way, they are a classic and a modern couple.
Some customers have already visited Crewe and sat with the design team, kicking off individual discussions and seeing examples of how the character of the Bacalar can differ based exteriors and other options. The twelve specs that will be seen around the world will range from being a bit conservative to something more advanced like the Yellow Flame variation we see in the unveil photos. Stefan also shared with us that there's one owner bold enough to go with this exact spec while another's looking to a British Racing Green finish.
On the interior, we see Bentley's continuing to push the envelope when it comes to sustainability. It's being made in the world's first certified carbon neutral factory for luxury car production and ethically-sourced materials like the 5,000-year-old Riverwood are being used in the Rotating Display and wrap-around dashboard. Bentley's also utilizing a Scottish tweed that's natural and locally-sourced. Though a two-seater, there's a semi-enclosed luggage compartment behind the seats.
The Bacalar marks Bentley Mulliner's return to coachbuilding, with the world's oldest coachbuilder to offer three portfolios to customers: Classic, Collections and Coachbuilt. From small batches like the Bacalar to eventual one-offs, it's a great time to be a fan of luxury and cars.
The first Bacalar will be landing to its owner by end of this year with one more Bacalar finishing every month after that until all twelve are in customers' hands. Price is set to roughly $1.9M USD but, as mentioned, they're all spoken for with owners anxiously awaiting delivery.