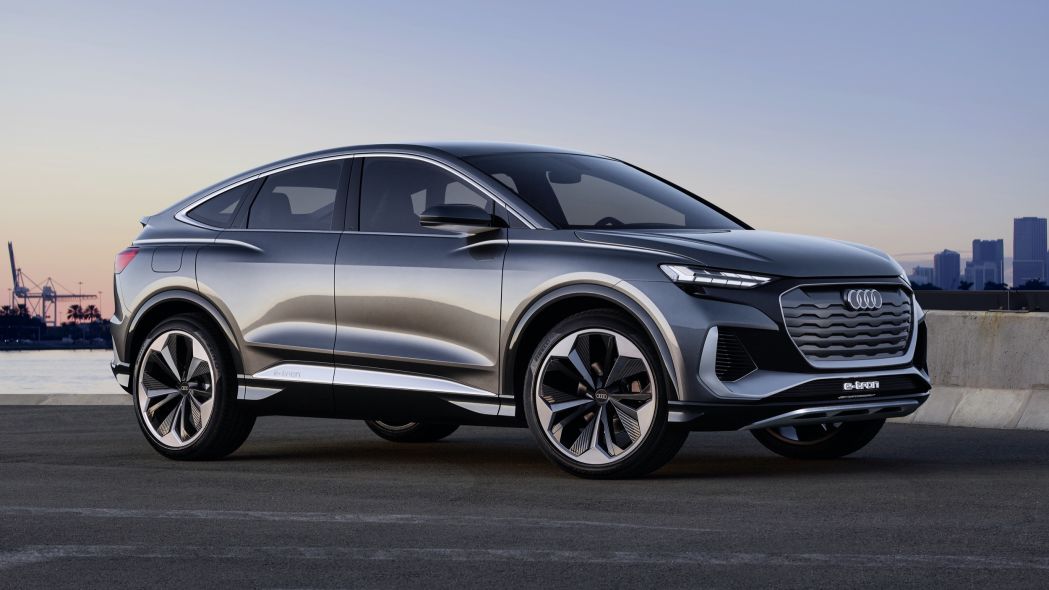 Audi's E-Tron line of electric cars continues to expand, with the latest addition being the Q4 Sportback E-Tron Concept. Starting with the Audi E-Tron crossover, which already made its way to the American market late last year, to the highly anticipated Audi E-Tron GT which is projected to be built with the same base support as the Porsche Taycan, to the Audi E-Tron Sportback and Audi Q4 E-Tron, the German brand's blanketing the electric car hemisphere.
At first glance, one might think it doesn't deviate much from its equally good-looking cousin, the Audi Q4 E-Tron, but taking a closer look would prove otherwise. For starters, the Sportback version boasts a sharper and more deliberate coupe-like roofline from the front to the back, adding in a much sportier stance. It's also noticeable how the rear spoiler is strategically attached unusually high for improved range without compromising visibility for the back area. And in a seemingly subtle way to complement its sporty look, a racecar-like rear diffuser with a svelte rear light bar was added in to complete a wide, aerodynamic rear aesthetic.  All of these details ride on its towering 22-inch wheels no less.
Now, beneath this design is highly-efficient use of space with the absence of a bulky driveline tunneling across the interior and the battery pack cleverly hidden beneath the floor, in between the axles. With this impressively smart configuration, the Q4 E-Tron Sportback's interior is as expansive as can be.
The technology behind its interior interface has been taken up a notch with its Digital Cockpit dashboard and never-before-seen reality Heads-Up Display. Reports say that this technology involves customized daytime running lights and road front directional arrows which are said to be too cutting edge that they have yet to showcase its actual functionalities, pending approval of US regulations. Now, that sounds really fascinating.
Power and energy-wise, the Sportback is equipped with an 82 kilowatt-hour battery pack which is set to supply energy to its two electric motors. These two motors are placed on each axle to give it all-wheel drive, 301 horsepower and 228 pound – feet of torque. This power may be sustained for about 279 miles between charges on Europe's WLTP Test Cycle.
In the light of offering a potentially lower cost version, the Audi Q4 E-Tron Sportback will also release a rear-drive-only variant which will be equipped with just one electric motor on the rear axle and a smaller battery. This model can very well stretch up to 310 miles on the WLTP.  It's still unclear, however, whether both of these two Sportback variants will be made available in the US.
What is clear though is that the Audi Q4 Sportback E-Tron is expected to hit the markets by summer of next year and Audi is said to be targeting below 40,000 euros for its selling price which will roughly convert to around $45,000 USD should it make its way stateside.
With seven electric cars on the lineup for 2021 so far, the anticipated production of the Q4 E-Tron Sportback will place Audi much nearer towards reaching its goal of releasing 30 all-electric models by year 2025. See more of the Q4 E-Tron Sportback in the gallery.