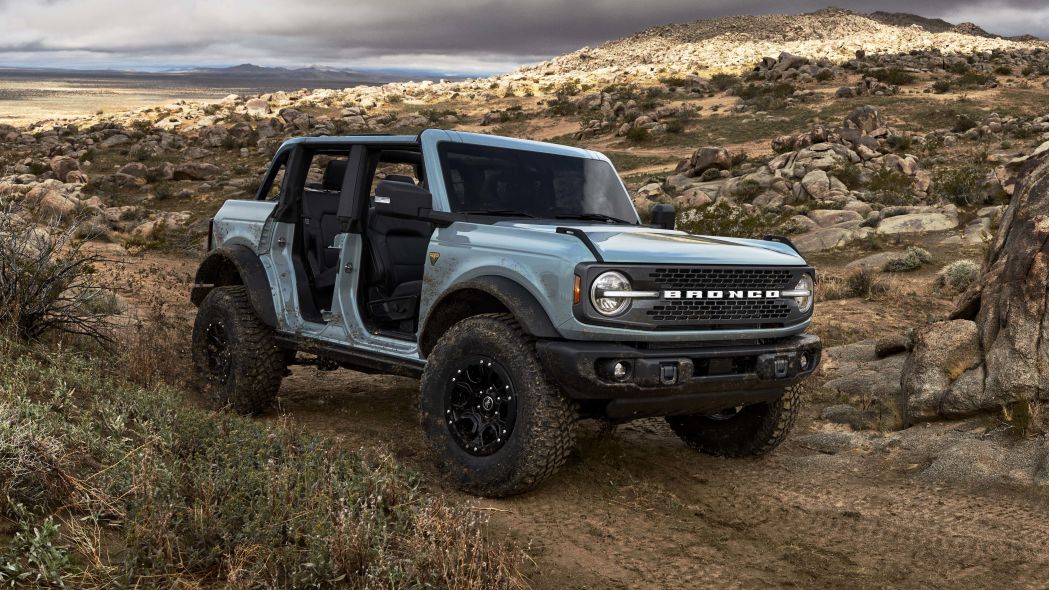 The long wait for the all-new 2021 Ford Bronco is finally over as the automaker's relaunched their classic and ruggedly handsome 4×4 off-road SUV. Resurrected from its original launch way back in 1966, this legendary Built-for-the-Wild truck has been revamped meticulously to fit into the modern times while maintaining its main classic components like its trademark boxy design, round head lamps and the overall carriage. What's even more impressive is how Ford has pulled out all the stops to make this legendary comeback as comprehensive and versatile as possible. In fact, they went all-out and built seven choose-your-own-adventure Bronco designs namely The Base, Big Bend, Black Diamond, Outer Banks, Badlands, Wildtrak and the already sold out, First Edition.
Now, for the rest of the info about this legendary SUV:
Under the Hood
The all-new Bronco will run on an independent front suspension with double alloy A-arms and coil springs. The rear, on the other hand, will rely on a five linked solid axle with coil-overs.Keeping the car in control is a hydraulically-controlled stabilizer that can automatically be disconnected for maximum articulation off-road. To complement this suspension feature, it's fully equipped with position sensitive Bilstein shocks no less, for higher speed and desert-running use with "High Performance Off-Road Stability Suspension" or simply, HOSS.
The height clearances depend on several factors like the number of doors, the trim package and the outfitting of the exclusive 35-inch tire option for the customizable SUV. Clearances can be as low as 8.3 inches for the four door or as high as 11.6 with the big wheels which is still remarkably higher than that of Wrangler at 10.8 for the Rubicon.
On the approach, the Ford Bronco goes down with 35.5 degrees (43.2 for big tires) while the break-over angle ranges from 20 to 21.1 degrees. The departure angles, on the other hand is at 29.7 to 29.8 degrees making it less than that of Wrangler but if equipped with big tires, the Bronco can easily beat the Wrangler or even their best Wrangler Rubicon.
Talking about the engine, Ford built 2 engine variants for the Bronco series. First is the standard version which equates to 270 horsepower and 310 pound-feet of torque through its 2.3 liter turbocharged inline four. Then there's the big gun, a 2.7-liter turbo V6 which levels things up to 310 horsepower and 400 pound of torque.
All this power will run through a seven-speed manual transmission which is a standard for the 2.3 liter engine variant. But unlike Porsche 911, this transmission system will work on a six-speed manual and a crawler gear. This gear is open for upgrades that can well achieve a crawl ratio of 94:75:1 at its best. The automatic transmission, on the other hand, is optional for the 2.3 liter engine but is a standard for the tougher 2.7 liter model.
As expected, 4 wheel drive is standard for all Bronco models but again, there are two systems to choose from; the standard system with two-speed, electronic, shift-on-the-fly transfer case with a 2:71:I low ratio and the optional 3:06:1 low ratio with a 4A mode that can go between 2H and 4H as needed.
Dana produced the differentials for all Bronco models. The rear is a Dana 44 with standard AdvanTEK units and Spicer PerformaTRAK electronic locking units.
Off-road Tech
Each of the models under the Bronco series has been torture-tested through an extensive off-roading on King of the Hammers Trails to fulfill Ford's "Go Over Any Terrain" GOAT mantra which was originally used for the 1960s Bronco legend. This is where the 2021 Bronco's GOAT mode is derived from. There are seven GOAT modes depending on each car's trim level namely Normal, Eco, Sport, Slippery and Sand, plus BAJA, Mud/Ruts, and Rock Crawl.
There are also other driving technologies built in to the all-new Bronco like the Trail One-Pedal Drive which increases precision while rock crawling, the off-roading-cruise system called the Trail Control and the Trail Turn Assist which makes use of the 4×4 torque vectoring technology to make those sharp turns.
It's also equipped with a 360 degree camera system to make it easier to drive off-road. There are also over 1,000 topographic trail maps with its available touch screens that can work with our without internet access.
Removable Roofs and Doors
What sets apart the new Bronco series is its customizable open-top driving experience. While the 4-door models come with both a cloth soft top and hardtop, the Bronco 2 door model only comes with a removable roof panel for its hardtop. The doors can be removed too with its windows stowed in the Four-Door's cargo area.
The New Design
According to Ford, the Bronco's design is highly modular with most of its parts and accessories easily removable and highly customizable.
Ford also made sure to make the 2021 Bronco as real-world functional as possible by conducting several VR tests and storyboards to determine how people will most likely use the Bronco as incorporated in their lifestyle. As a result, they made sure that everything is exactly where it needs to be from a simple bottle opener in the cargo area to a functional dash-top device rack where smartphones can be securely attached.
The Seven Series
As mentioned, Ford decided to build 7 adventure-based models for the 2021 Bronco series. Here's a quick glance of what they are all about:
The Base– called the Essential Bronco. This comes with only the essentials and is open for full customization.
Big Bend – Mainstream Off-Roading. Installed with comfort-laden features and accessories like leather-wrapped wheel, heated seats, aluminum wheels, power inverter and remote start.
Black Diamond – Adventure Off-Roading. Next level outdoor truck equipped with standard rear-locking differential, rock rails, heavy duty skid plates and seven GOAT modes.
Outer Banks – Off-Roading in Style. Features  standard signature LED headlamps and taillamps, body-color fender flares, powder coated tube steps while mounted on an 18 inch high-gloss black aluminum-alloy wheels. Inside, optional 12 inch LCD touchscreen  and B&O Sound System.
Badlands – Extreme Off-Roading. Considered as the most capable Bronco you can get, it is armed with Bilstein position sensitive monotube shocks, stabilizer bar disconnect and front and rear-locking differentials.
Wildtrack – High-Speed Off-Roading. Armed with the Sasquatch Package: 35-inch tires wrapped around 17-inch beadlock-capable wheels, front and rear-locking differentials and  with Bilstein position sensitive monotube shocks.
First Edition – This model is said to be built and reserved only for Ford's loyal customers who have waited patiently for the legend's return. It is said to be fully loaded with all the best parts of the Bronco series all put together such as the mechanicals of the Badlands, the interior of an Outerbanks and the exterior of a Wildtrak. This ultimate and fully loaded Bronco machine will have a limited run of just 3,500 units. Loyalty pays.
The 2021 Ford Bronco can be pre-ordered with a reservation fee of $100. The much awaited production will begin at the Wayne Township factory in Michigan in early 2021 with deliveries beginning in the spring. Pricing starts at just $29,995 and you can see more of the Bronco models in the gallery.