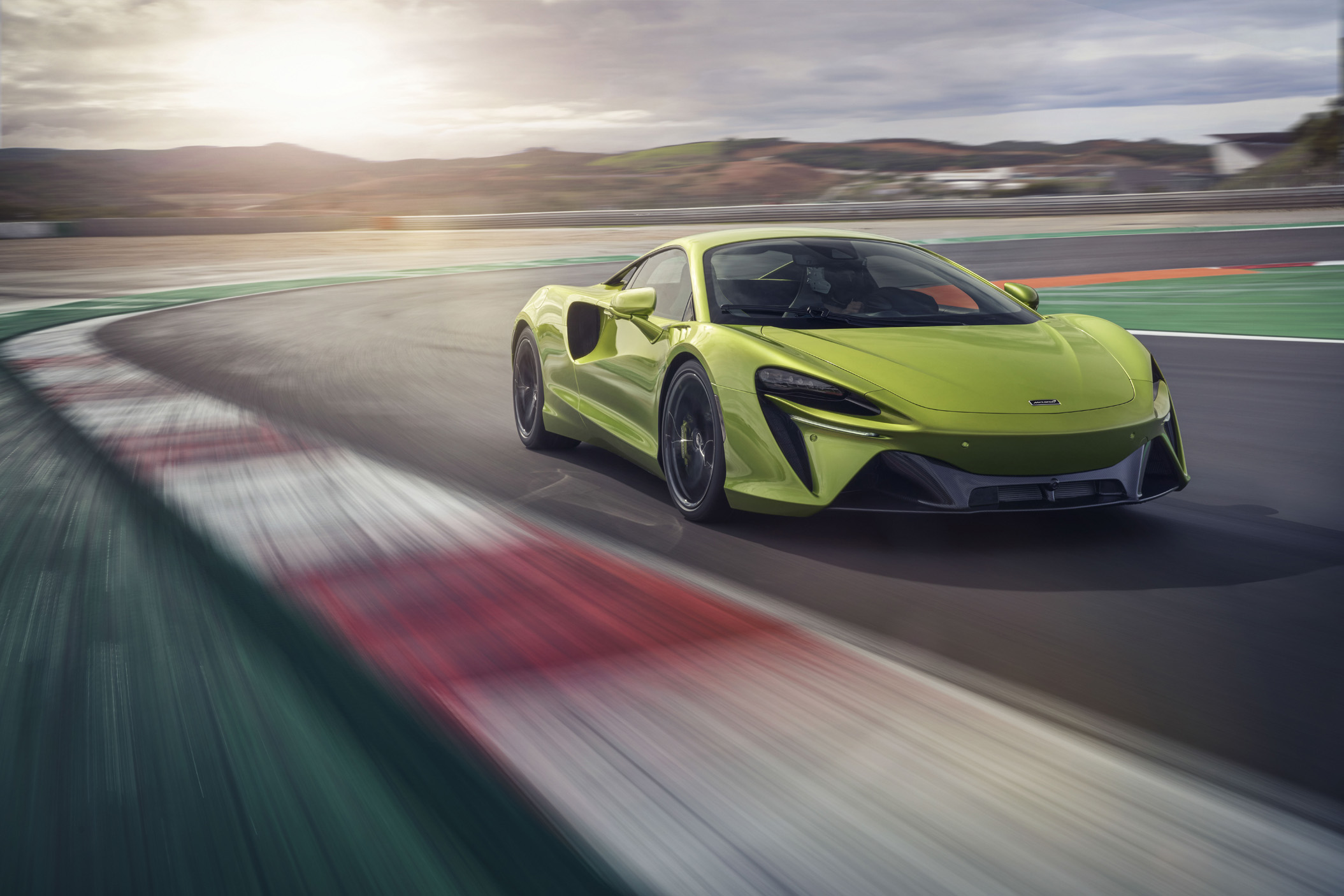 Meet the all-new McLaren Artura. It's the automaker's first plug-in hybrid since the P1 and it's coming at a price-point that's much more attainable with a refreshed cabin that's much more livable.
Sitting above the McLaren GT and right under the 720S, the Artura will replace the 570S and 600LT models, truly an end of an era. The new supercar's name blends the art of design with the future of technology. Even from early photos, videos and diving into McLaren's configurator tool, it's obvious the amount of time and attention that's gone into sculpting the Artura. But in typical McLaren fashion, customers can customize the heck out of their art pieces and truly make them their own. Given the Artura comes in four different trims — Standard, Performance, TechLux, and Vision — the options become a bit more limitless with each trim bringing its own set of enhancements. These include seat options, interior ambient lighting configurations, use of Alcantara or leather, and so much more.
Its side profile brings with it an even more impressive form factor, featuring less panel gaps thanks to advancements in manufacturing techniques. It's got curves and a distinct roofline similar to that of the 720S. We do wish it had a bit more length in the rear but there's such to be a difference in proportions once we see it in person.
In the cabin, we've got usable bins in the doors and cupholders. Ah, the simple things in life really can make all the difference. It's more comfortable and livable than any other model. The dashboard's been redesigned while there's just more cabin space as a whole for us to soak into. McLaren's IRIS system's been updated with an 8-inch floating display that's got Apple CarPlay and Android Auto integration as standard. Behind the wheel is an all-new 10.25-inch display sitting right between the driving mode levers that can be adjusted without letting go of the steering wheel.
The McLaren Artura features a new carbon fiber tub as well as a new suspension and chassis to make this more nimble, agile and in control. It's got an electronically controlled mechanical limited-slip differential, a first for McLaren.
Power for the most responsive McLaren on the market comes from a high-performance hybrid system sees an all-new 577 hp 3.0-liter twin-turbocharged V6 mating to a 94 hp electric motor, giving us 671 horses in total. That's more than even the 675LT but in a package that's more tamed in terms of looks. With a combined torque figure of 531 lb-ft considered and going right to the rear wheels, the Artura can get to 60 mph in 3 seconds and 124 mph from standstill in just 8.3 seconds. McLaren's latest creation tops out at 205 mph and will make it look easy. The eight-speed dual-clutch transmission manages everything and the one quirk is that it doesn't feature a reverse gear, given the electric motor just spins the other way around when popped into reverse. This makes for some weight and space savings.
How all of this translates to the road still remains to be seen but F1 race car driver Daniel Ricciardo already gave it a spin and you can see what he had to say through the Artura event site.
See more of the McLaren Artura in the gallery and look for it to hit McLaren showrooms later this year with a starting price of $225,000 USD.