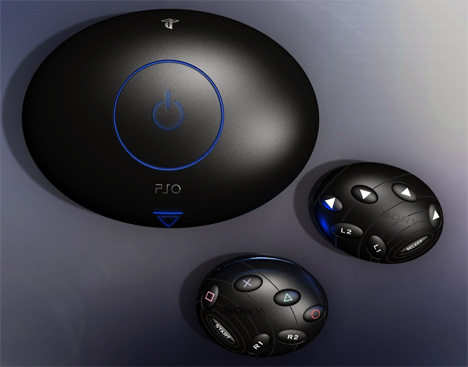 I know you're not tired of your PS3 just yet but just to build your anticipation for what Sony might give us within the next decade or so, Harold Smook has designed the PlayStation Enso. The design takes inspiration from the Japanese and Buddhist Zen elements, with the premise being based on the symbol called Enso (meaning the glow of enlightenment).
The system's packed with an array of features as well including:
USB 4 connection
DVD Drive with terabyte capacity
Backward compatibility with DVD and CD data
SD memory slots for terabyte capacity memory disks
Wireless Controls
Wireless Connectivity with Internet
Console will have rechargeable batteries
3D projector that projects 3D images into the physical space between you and display device
Touch buttons for power and eject
Blue Lights that glow in correlation to the battery status
Also, the controllers will be able to harness kinetic energy thanks your hand movements and use it for charging as well as storage. Just thought I'd throw that out there as well.