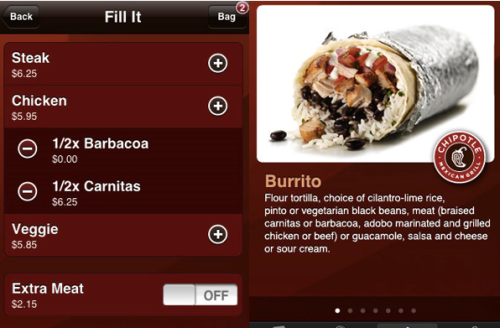 This may well be the app to trump all apps. Granted you might add a few pounds (isn't chipotle suppose to be semi-healthy?), Chipotle's iPhone app just made the only standing between you and a fresh burrito from Chipot a thing of the past. The app's well designed with a very high "ease of use" rating. Are you in an unfamiliar area and craving a scrumptious burrito, the app finds Chipotle locations in your area and helps you place an online order that can be picked immediately. You can customize your order exactly how you like it. Locate, Order and Pay Using iPhone and iPod touch. Cutting to the front of the line just got easier.
Press Release for complete details after the jump. 
DENVER – August 25, 2009 – Chipotle Mexican Grill (NYSE: CMG and CMG.B) today announced its new ordering application is available on the Apple App Store. The mobile ordering app gives iPhone and iPod touch users the ability to create their favorite Chipotle order, place it at the Chipotle location of their choice, and also pay for their food direct from their device."The breakthrough iPhone and iPod touch have really given us the ability to deliver a compelling experience to customers which includes simplicity, personality and attention to detail," said Steve Ells, founder, chairman and co-CEO of Chipotle. "We are changing the way the world thinks about and eats fast food, and the iPhone and iPod touch give us powerful new ways to engage and serve our customers. While we have always made our high quality food affordable and accessible so everyone can eat better, we've probably never been this accessible."

Chipotle's time-saving app is being released in conjunction with a newly updated web-based ordering system, available on www.chipotle.com. Customers can place orders through a secure credit card payment capability that allows users to save their information for quick repeat orders and an expanded group ordering feature that allows customers to place multi-item orders under a single name. The app also allows customers to save their favorite Chipotle meals online, as well as those of friends, family, or co-workers. Using location-based technologies customers can also quickly find the nearest Chipotle.

The Chipotle app is available for free from Apple's App Store on iPhone and iPod touch or at www.itunes.com/appstore/

The app was developed by Pervasent, a Berkeley, Calif. firm that develops mobile applications, and Chipotle's internal IT team and designed by San Francisco-based Sequence.

About Chipotle

Steve Ells, founder, chairman and co-CEO, started Chipotle with the idea that food served fast did not have to be a typical fast food experience. Today, Chipotle continues to offer a focused menu of burritos, tacos, burrito bowls (a burrito without the tortilla) and salads made from fresh, high-quality raw ingredients, prepared using classic cooking methods and served in a distinctive atmosphere. Through our vision of Food with Integrity, Chipotle is seeking better food not only from using fresh ingredients, but ingredients that are sustainably grown and naturally raised with respect for the animals, the land, and the farmers who produce the food. Chipotle opened its first restaurant in 1993 and currently operates more than 860 restaurants. For more information, visit chipotle.com.