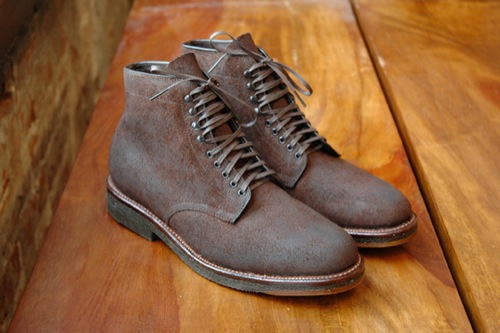 Alden continues to bless Portland shop Winn Perry with another exclusive. The Navy Blucher High Boot is filled with inspiration from "Pershing" Trench Boots, also known to as "Little Tanks." Here's more insight:
When the Pershing Boots were received in 1918, the soldiers of the U.S. 1st Division rubbed them with a treatment, which consisted of 2 parts beef tallow (beef fat basically) to 1 part Neatsfoot oil. This experiment, referred to as "dubbing", was supposed to make the boots more waterproof and gave them a darker, oiled appearance. For our "Little Tanks", we made them to Alden New England standards with a heavily oiled reverse chamois leather and Alden's plantation crepe sole with leather tip. This combination certainly makes them pretty weather proof and quite a bit more comfortable than the originals, which had a triple leather sole with iron toe cleats, heal plates and hobnails, a few of the reasons they were referred to as Little Tanks. While not built for fighting in the trenches, these boots will still be very happy taking some abuse.
They're really special, as 99.9% of Alden-made pieces are, no? They look great, and with Alden's reputation of crafting wearable footwear with a deep attention to detail, we don't think we'll be able to pass this pair up. They're available now at Winn Perry for $420 USD. For a closer look, click the jump.