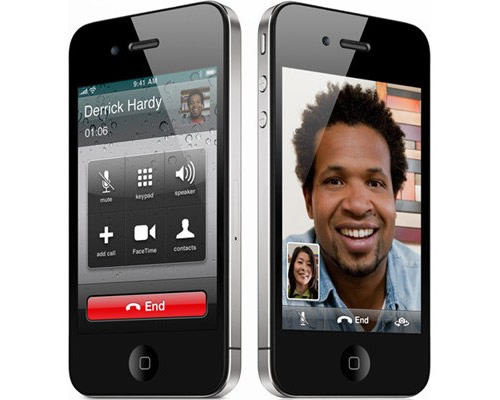 Earlier today, Steve Jobs took the covers off what many fanboys may have already seen. The iPhone 4 is the thinnest iPhone we've ever seen and Steve compared the overall aesthetics to a beautiful old Leica camera. The shell's fitted with a glass front and back and the stainless steel band that goes around the phone doubles as an antenna system. Plus, there are two cameras, one with an LED flash and a 5 megapixel sensor, both enabled for video conferencing via the FaceTime app.
Under the hood is where the real funs begins, with Apple's A4 chip securely fastened alongside a bigger battery which gives for 7 hours of 3G talk, 6 hours of 3G browsing, 10 hours of WiFi browsing, 10 hours of video, and 40 hours of music. The WiFi is 802.11n now and the display's extremely crispy with a 960 x 640 resolution that should be perfect for viewing that HD video you record at 720p / 30fps.
The iPhone 4 will be available in white or black, retailing at $199 for the 16GB model and $299 for 32GB. They go on sale June 24th, and AT&T will be giving some extra grace upgrade timing — up to six months early. Look for preorders to begin next week.