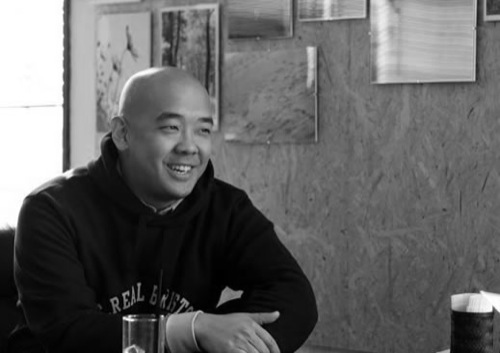 Road to (capsule) is a Por Homme exclusive, made possible by the good folks behind the (capsule) tradeshow, and of course, the person(s) being interviewed. We ask each designer five questions that help to give us — as fans, readers, observers, whatever — a better understanding of what makes these gifted individuals tick. The questions are fairly uniform, but as you'll see, the answers are far from that. The (capsule) show invades New York July 19th and 20th, giving viewers first looks at Spring/Summer 2011 collections from the industry's most reputable men's labels.
We kick off Road to (capsule) with a sit down with Jeff Staple, the Founder and Creative Director of Staple Design and Reed Space (among a host of other things). Beyond being one of New York's most-gifted individuals, Jeff's also a class act and one of the most genuine people you'll ever meet. Well let's get to it, shall we? Hit the jump. 
—
As owner of Reed Space and founder of Staple Design, we're sure the responsibilities are endless. Now with (capsule) New York not too far away and the preparations mounting, what's going on during your limited free time?
It's actually not too bad! New York's men's market is much later than Europe's as you know. We spent the last month in Paris, London and Berlin showing our Spring 2011 collection, so by the time (capsule) New York rolls around, we're pretty much completely dialed in. We have lots of others thing going though. For instance, we just finished up a massive project with Oakley where we helped them celebrate their 35 year anniversary. We will release a 6pc collection that will come out between now and this fall.
As you're getting set for next week, walk through a day in the life.
I usually start my day at 9am. I try to get into the gym a few times a week and work on my physical health. My grandma always told me it doesn't matter how talented you are; if you're not taking care of your health and well being it doesn't matter at all. Then I'm in the office by 11am. Our office officially opens at noon. I don't believe people are actually that productive in the morning, plus it makes for happier livin' for everyone. So during the day, literally anything can happen. It could something with our collection. Something with a design client. Maybe an account has a problem. Maybe something is happening at Reed Space. I always have some meetings scheduled…but other than that, the days are a free for all.
I work at the office till around 8 when I get dinner with either a friend, a loved one, a client or all of the above!  Then I go home at 10ish and begin work from home. I'll work till I pass out which is typically around 4am. I wake up and start all over again. 7 days a week. I love It though.
"When you love what you do, you never actually work a day in your life."
We checked out next spring's STPL collection. Any piece that we have or haven't seen that lands as a must-have?
I think the must have piece is the Gondry Technical Jacket. I'm really much more into the functional aspect of clothing. "Function over form" for me. And yet, this is a beautiful yet super functional jacket. You can pair this with our t-shirt that says "You Ain't No Lumberjack" on it. Enough with the taxidermy people. Let's move forward.
Plenty of collaborations brewing the past few seasons. Any designer/label you'd like to team up with in the near future?
There's probably not too many companies on planet earth that have done as many collaborations as Staple. I like to work with people that I can relate with… you know, sit down and break bread with over a nice dinner. I don't work with companies that just cold call and say lets do something together. It just doesn't interest me. So I wouldn't just name a company out of the blue that we'd want to work with. The coolest company in the world could be run by a bunch of a-holes (which is more common than you'd think); so why would we want to work with them?
Next week's (capsule) show is here in NYC on your home turf. Being a native New Yorker, what is the one thing everyone should experience while here?
Take the subway everywhere you go. It's the great equalizer in NYC and I always get inspired down there.
—
Spoken like a true New Yorker. Some words of wisdom from a good man. For more on Jeff, check out Staple Design and be sure to follow @JeffStaple on Twitter.