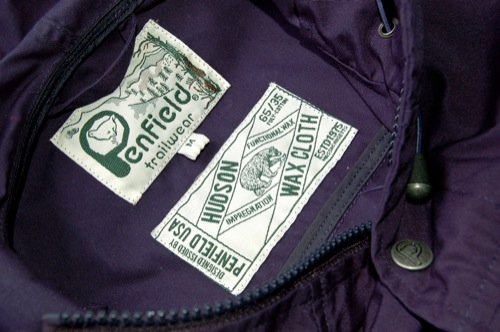 Road to (capsule) is a Por Homme exclusive, made possible by the good folks behind the (capsule) tradeshow, and of course, the person(s) being interviewed. We ask each designer five questions that help to give us — as fans, readers, observers, whatever — a better understanding of what makes these gifted individuals tick. The questions are fairly uniform, but as you'll see, the answers are far from that. The (capsule) show invades New York July 19th and 20th, giving viewers first looks at Spring/Summer 2011 collections from the industry's most reputable men's labels.
We continue on the Road to (capsule) with a sitdown with Penfield CEO Jamie Barshall. 2010 is a huge year for Penfield, as the Massachusetts-based label is celebrating its 35-year anniversary. We've highlighted several Penfield products in the past, most recently their Hudson Wax Cloth jackets. Hit the jump to see what New England's finest garment maker is up to as it gets set for (capsule) New York.
—
Thirty-five years in the industry is pretty impressive. What's helped Penfield to not only withstand the test of time, but also do it with such great success?
I think we have stayed focused on what we're good at – namely making great looking functional outerwear that you can wear anywhere, adaptable to the widest range of conditions. That and a commitment to quality and looking after our customers and always taking the long view. I think that's important and our long-term outlook is a firmly embedded principle within the Company.
As you're getting set for next week's (capsule) show, what are some of the final preparations taking place for you and your team?
Well, we've already done some of the European shows – Pitti in Florence, (capsule) Paris and B&B Berlin – so in theory we should be completely ready for this! (capsule) is an exciting and important show for us and we're really looking forward to it in the new location and that it's all under the same roof this time.
We're sure the Spring 2011 collection will be well received. What's a must-have piece from the line?
The Hudson Wax styles performed amazingly well for Spring 10 and there are a number of new styles in this fabric for Spring 11 – my favourites are the Dover and Barnstable. We're also really happy with the way our bag line is shaping up and the new canvases are really high quality and look great.
In the past, you've collaborated with plenty of top-notch labels such as Wood Wood and Maharishi. Anyone you'd love to team up with in the near future?
There are a few things in the pipeline – we worked with Rag&Bone again for FW10 and some exciting Japanese projects with Edifice/Journal Standard and United Arrows.
Does Massachusetts play a major part in the pieces you make and if so, how?
It's really important that we maintain that unique Penfield DNA – and part of that is very much embedded in Massachusetts and the great outdoors of New England.
—
Stay tuned next week as we'll be bringing you looks from Penfield's Spring 2011 collection. Be sure to follow @PenfieldUSA on Twitter to see what they're up to in real-time.