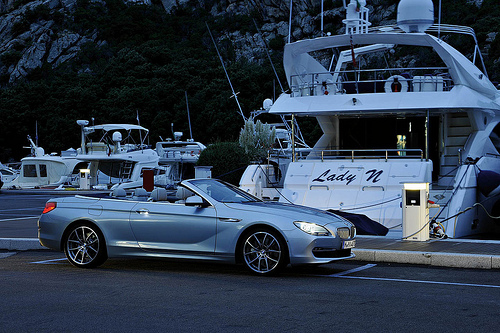 Though the only hints of a 2011 BMW 6-Series at the LA Auto Show were in the form of a concept, that didn't stop the German automaker from releasing shots of the 2012 650i Convertible. From the looks of things, it's going to make convertible cars relevant again. Furthermore, BMW's gone with a soft top instead of the retractable hard tops we've seen so much of lately. A part of me actually digs this move. The design of new generation 6-Series is looking quite promising, but that can be said about the entire BMW lineup right now.
For anyone wondering, you can drop the top in about 19 seconds and close it in 24, with both functions possible if you're moving at 25 mph.
Power for the 2012 BMW 650i Convertible comes from the twin-turbocharged 4.4L V8  making 400-hp with a peak torque of 450 lb-ft available between 1,750 and 4,500 rpm. The engine can be mated to BMW's 8-speed Sport Automatic gearbox or a 6-speed manual transmission. 0-60 mph comes in 4.9 seconds with a top speed of 155 mph. EPA figures will be available closer to the on-sale date.
The new BMW 650i Convertible will release in the spring of 2011 as a 2012 vehicle, which isn't too far from now. Look for pricing details to be released as the drop date nears.