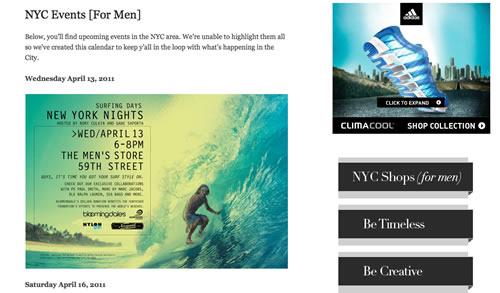 So I'll be honest, we get turned to tons of events going on in the New York City area on the regular and it's really tough for us to highlight each and every single one. We've been working at this for quite sometime but didn't really know what direction would be best for Por Homme and its readers. I think we've landed on a layout you guys will appreciate. Plus, we're the first men's style site to ever do something like this.
The new NYC Events section on Por Homme will showcase the best events NYC has to offer to men. They'll usually range in direction but the majority will be focused on the men's fashion scene. This will really give us an opportunity to get you all to interact with one another beyond the comment board and social networking platforms.
I'm pretty excited about this and I hope you all are as well. As always, please don't hesitate to reach out to me directly with any questions, comments or concerns. Got an event you'd like for us to consider? Send that this way as well. Check out Por Homme's NYC Events For Men section.
– Atif Kazmi, Editor-in-Chief, atif@porhomme.com