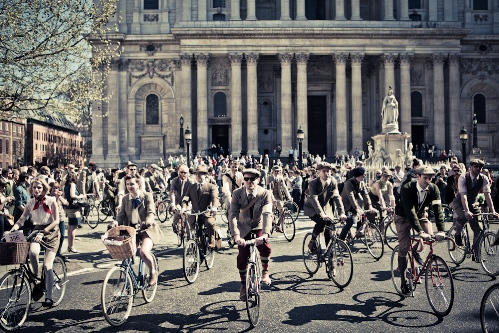 Rugby Ralph Lauren Bring Tweed Run to New York
Rugby Ralph Lauren have teamed up with Tweed Run to create the first ever Rugby Ralph Lauren Tweed Run. The duo look to bring the one-of-a-kind cycling event to the States, with all its classic tweed styles and British heritage influence coming along for the ride. On Saturday October 15th, New York participants will gather in the Village and will ride to Brooklyn while breaking for tea as well as a soiree on the way. There are prizes up for grab as well with categories like Best Vintage Bicycle and Best Dressed being two of the many.
This is such a perfect match as I personally believe Rugby and Ralph Lauren carry some of the best tweed ensembles on a consistent basis. For this special event, expect to see some collaborative pieces like silk scarves, flasks and saddles. Although registration is closed for the event, be sure to head over to Rugby to learn more about the event. We've got some shots below that should give you a sense of what to expect next week.