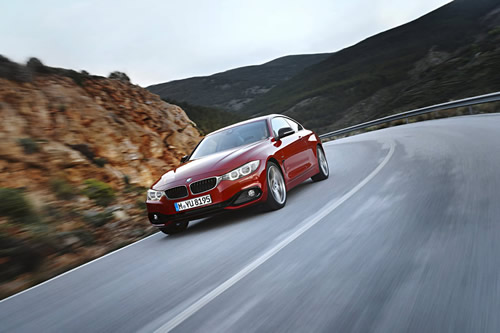 BMW has officially taken the covers off the all-new 2014 4 Series, which is now the coupe branch of the entry-level 3 series sedan. The 4 Series will come in 428i and 435i variants, both of which will have an option for xDrive all-wheel drive. Identical to the 3 Series, the 428i is powered by a 2.0-liter turbocharged inline four-cylinder engine, delivering 240 horsepower and 255 pound-feet of torque, while the 435i gets BMW's turbocharged 3.0-liter inline-six making 300 hp and 300 lb-ft. In three of the four models, both a six-speed manual and eight-speed automatic transmission are available; the 428i xDrive can only be had with the auto 'box. The 428i is clocked with a 5.7 second 0-60 mph time, while the 435i can achieve this in 5.3 seconds.
The 4 Series features a profile similar to that of its older sibling, the 6 Series. When matched up against the four-door 3 Series, the 4 Series coupe is one-tenth of an inch longer overall, 0.6 inches wider, and has a roofline that's 2.7 inches closer to the ground.
Look for BMW to offer up the 4 Series in three different trim lines – Luxury, Sport and M Sport. Expect to see these beauties hit showrooms later this summer. Pricing will start at $41,425 for the 428i Coupe, $46,925 for the 428i xDrive, while the 435i starts at $43,425, and the 435i xDrive will come in at $48,925, destination fee included.