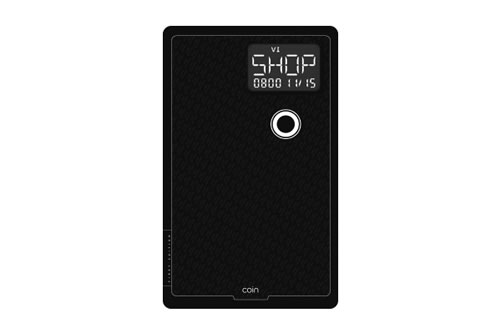 We like things to be simple. Some of our favorite wallets and card holders are made from high quality leather but come in very sleek silhouettes that don't bulge or become more of a burden than a much needed convenience. The truth is though that we don't own these wallets and card holders because they usually have 2-3 card slots, about 5 less than what we need given all the cards we keep on us on a regular basis. That's your license, credit cards, bank debit card, and possibly your loyalty cards as well.
The folks behind Coin have swooped in to solve a real problem. They've built a card that's about the size of a standard credit card but with some enhanced features that allow it to house multiple debit, creditm even gift cards. The bluetooth-connected Coin has a small black and white e-ink display, a single button to swipe through the cards, a two-year battery, and a magnetic stripe that can pretend to be any of the cards you've uploaded via the iOS or Android app (via an included compact dongle).
All you have to do is pick the card you want to use from the single mode button and then swipe it through a store's standard card reader. Oh, and if you happen to forget it at the restaurant you were just at, it pings you via the app and automatically deactivates so it can't be used. All wireless communications between the card and your phone are protected with 128-bit encryption to prevent someone from stealing your account details.
Regularly priced at $100, Coin is offering up the card for a pre-order rate of $50 for a limited time. Intro video is below and you can head on over to Coin to learn more.