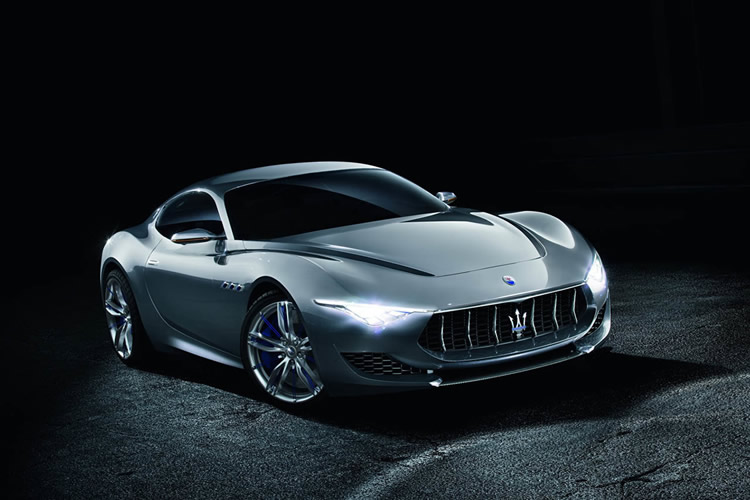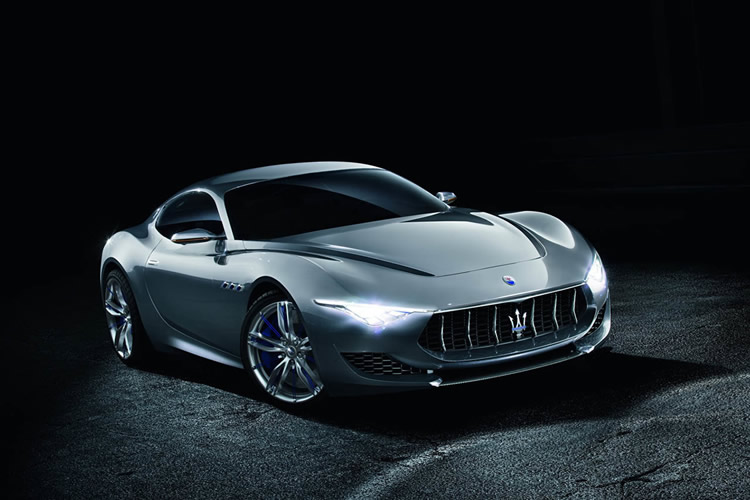 Maserati unveiled the Alfieri today, a 2+2 concept car that celebrates the brand's centenary while also reaching back to its racing heritage. It's more sport than the GranTurismo and aligns well with the Italian style 2+2's that have come before it like the '57 3500 GT and '69 Indy. Maserati hints that the Alfieri may be the blueprint for the brand's stylistic intentions for the near future. A lot of inspiration also came from Maserati's A6 GCS-53 which was the last car that Pininfarina designed on a Maserati model before making a comeback in the first decade of the 21st century with the Quattroporte and the GranTurismo.
The Alfieri has an aggressive look, led by the long, low nose and the vertical division in the grille into two concave sections. The headlights incorporate bi-xenon LED's and are rendered distinctive by a characteristic eyebrow, repeated on the twin exhaust tail pipes. In the rear, the three dimensional candy-cane tail lights are made up of two red external elements with a white element inside. Their shape follows the rear shoulder of the car and complements the air ducts underneath to create a racing style rear view. The wheels have been specially designed for the Alfieri concept and are forged from single aluminium elements.
The concept is based on the GranTurismo MC Stradale chassis with a slightly shorter wheelbase with a transaxle platform of the Maserati GranTurismo sitting underneath the body. We get a 4.7 liter, naturally aspirated, V8 engine that develops 460 hp at 7,000 rpm and 520 Nm @ 4,750 rpm which is then mated to a six-speed, electro-actuated gearbox. The Alfieri also features a special exhaust layout that delivers a unique sound that folks at the unveiling in Geneva got a chance to experience first-hand. The Alfieri's carbon ceramic disc brakes come directly from the GranTurismo MC Stradale and are combined with blue Brembo brake calipers for good measure.
Hop inside the 2+2 seat cabin and you'll it's very minimalistic. The suspended dashboard is inspired by that of the Maserati 5000 GT. The instrument panel has a classic layout while the edge of each clock is embellished with a small "Officine Maserati" label. The floor is finished in a material that imitates oxidized steel, a material commonly found on racing cars of the 1950s.
Look for more to come out around the Alfieri in terms of what makes the cut for production as Maserati has said that something very similar to this concept will hit production in two years time.