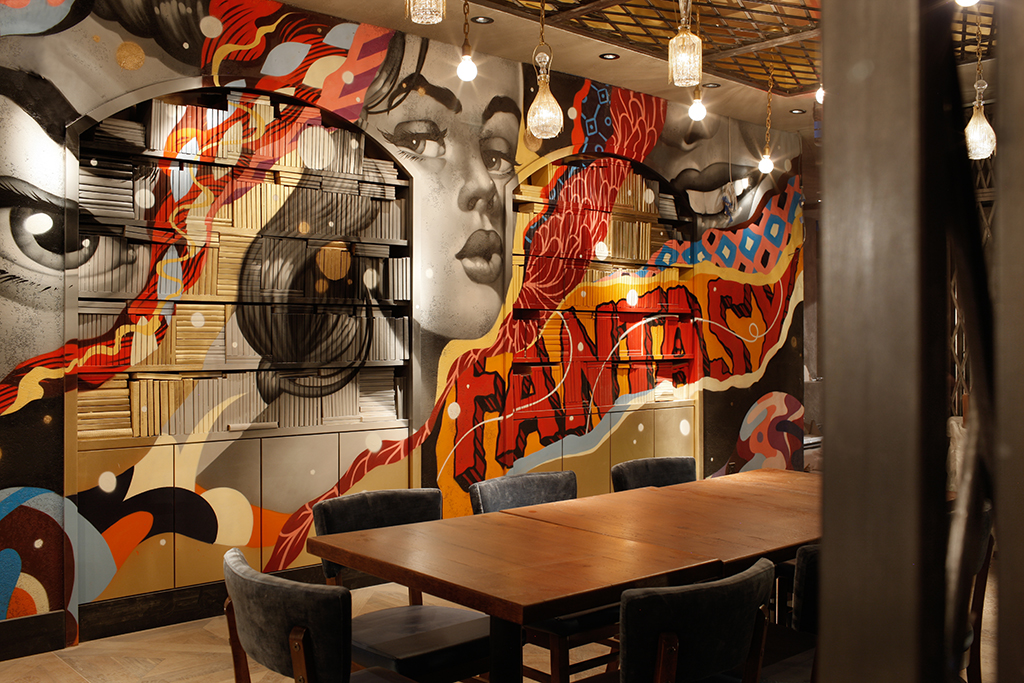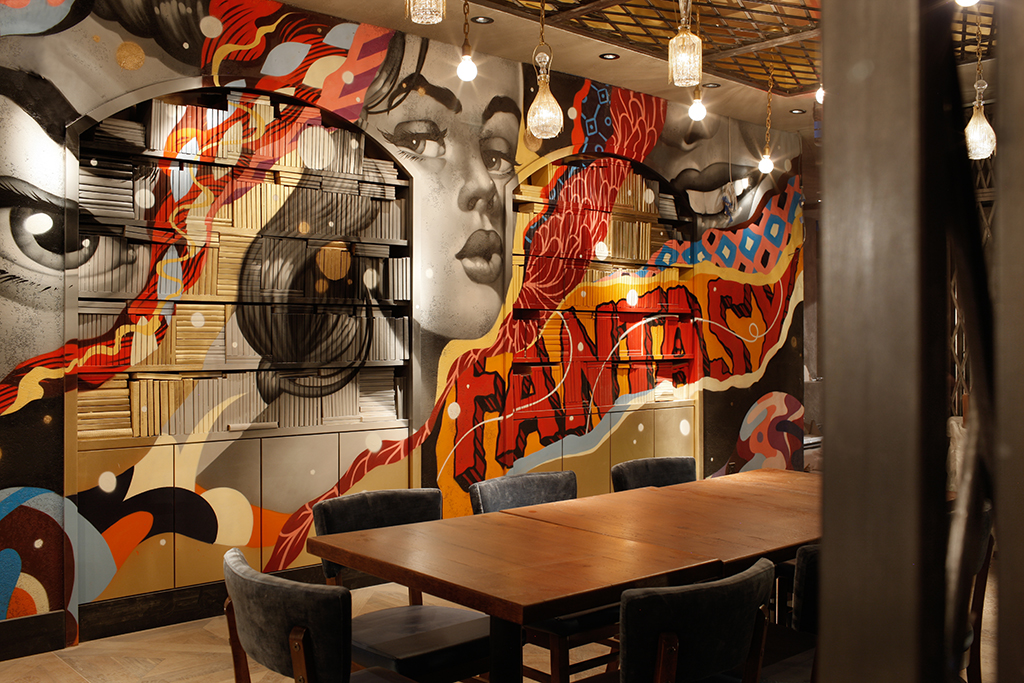 With Beauty & Essex and The Stanton Social, Chris Santos shifted the way folks enjoyed New York's Lower East Side. And with his latest endeavor, Vandal, the chef's mission seems to be to propel the neighborhood to the top of the City's food culture rankings. Partnering once again with TAO Group, Vandal is undoubtedly the team's most ambitious work to date. It's a bi-level restaurant, bar, and lounge that pulls street food inspiration from destinations like Peru, Vietnam and Barcelona. Access to the restaurant comes through a minimalist flower shop/botanical gallery designed by creative floral studio Ovando that leads to a long, vaulted brick tunnel. The light at the end comes in the form of a 11-foot tall breakdancing "Icy Grape" lacquered bunny rabbit, a custom Rockwell Group creation. It accommodates 360 seats with the interior pulling in the street art vibes we're accustomed to seeing outside in this area of the city. Beyond the art installations, there's also a series of private rooms and secret catacombs. Each room has work by seven "vandals" that are revered in the street art scene. UK-based HUSH was commissioned for the restaurant's wallscape while famed artists like Shepard Fairey, Apexer, Tristan Eaton, Eelus, Vhils and Will Barras have all contributed massive murals to really bring the interior of Vandal to life.
There's a constant juxtaposition with exposed brick and these abstract works of art sitting alongside leather sofas in neutral shades intimate lighting. You can visit Vandal several times and chances are you'll have a completely unique experience each time. There's a secret garden, a dining area that's enclosed by glass garage doors, a bar/lounge with a sculptural blue granite and lacquered wood bar. Each of three dining rooms provide varied artwork while the cellar-level lounge features a serpentine bar with delicate glass globe lighting.
And when it comes to the food, the menu's filled with unique creations that came from visiting 14 countries, including Italy, Argentina, and Singapore to sample street food. You'll see Santos continue to deliver sharing-friendly small plates, this time blending American Kobe tartare and smoked aioli, avocado and crispy kale, and even introducing Chicken Katsu & Hong Kong Egg Waffles.
Vandal, like Santos's other projects, are as much about the experience as they are about the menu. Needless to say, there's a lot to see and taste. To learn more about Vandal and to book a reservation, head to vandalnewyork.com.