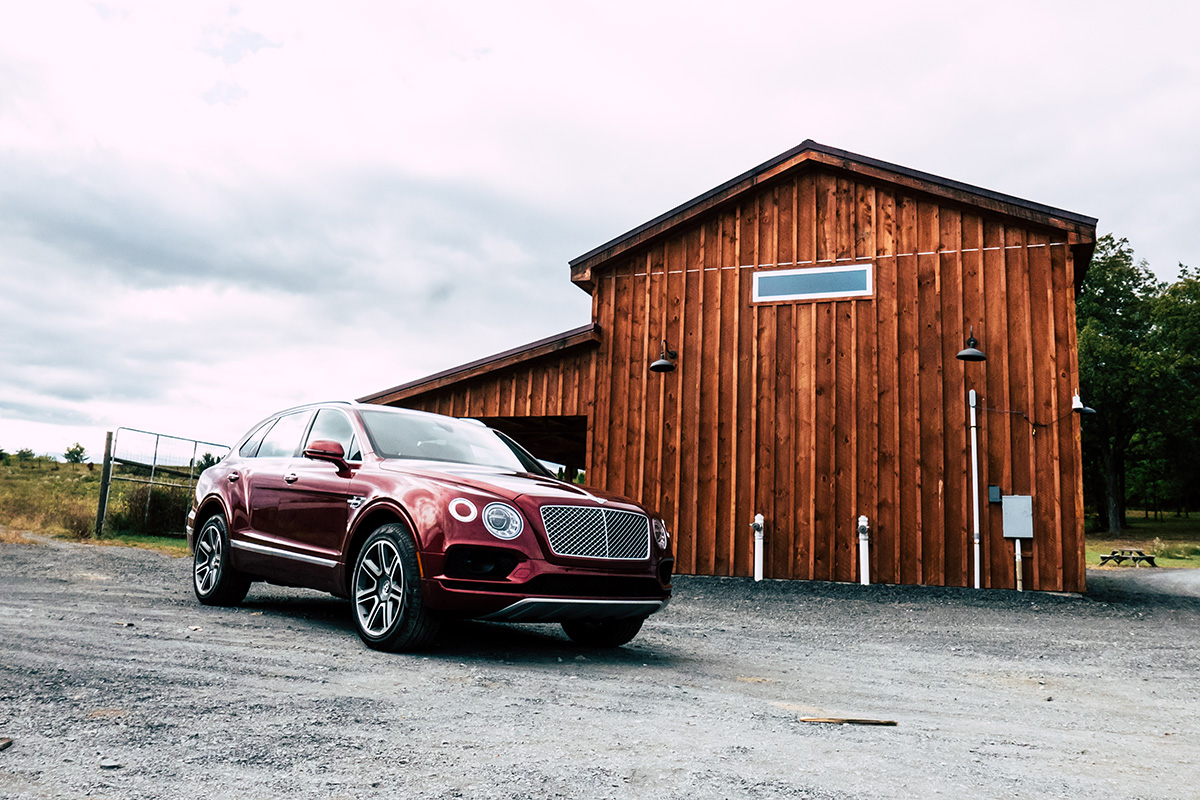 Images by Atif Kazmi for Por Homme
Let me begin by saying this: the Bentley Bentayga has no formidable competition. There isn't another ultra-luxury SUV on the market (yet). And even when the likes of Rolls-Royce and Lamborghini finally join the party, the bar that the folks in Crewe have set will be hard to beat let alone reach. But all the articles and images scattered throughout the web couldn't prepare us for the feeling of actually getting behind the wheel of one. So that's what we did. With the Bentley Bentayga in Dragon Red dropped to my place the day before, we skipped on rush hour traffic by hitting the West Side by 3pm as we made our way to Stone Ridge, New York for a weekend escape. It's less than two hours from the City but has a ton of urban influence, given the bit of migration that's taken place to more rural pastures.
The accommodations at the Hasbrouck House had B&B vibes with perfectly executed design and decor. Each piece of furniture came from a local supplier while the head chef was seasoned, yet constantly experimenting to deliver even better food. One evening's dinner took place at the in-house restaurant, Butterfield, led by Chef Aaron Abramson. And though the meal was as tasteful as you'd expect, we also had the opportunity to see the farm-to-table process come to life earlier in the day at Ravenwood, a farm stand built inside a 19th century barn that also hosts a dinner series while helping to shed light on local artisan goods.
It's that attention to detail and dedication to true craftsmanship that makes the Bentley Bentayga so sublime. Its looks are met with plenty of opposition but the polarizing design will command your attention regardless. The body's width and iconic Bentley grill up front make it hard to ignore but taking a step closer to admire the lines and detailing is all it'll take to make a fan out of even its harshest critics. Step inside and you'll notice there hasn't been a corner cut or an expense spared. But all that should be expected by now, no? Bentley's held the title of having created the fasted luxury touring coupe so many times you really start to think they're competing with themselves. An invitation to Crewe will allow you to see all the men and women that tirelessly work on each element of each vehicle that's built with painstaking detail. The diamond-quilted seats, drilled sports pedals, and embroidered Bentley emblems are standard, along with the buyer's ability to pick his or her choice of hide, carpet and interior colors in any which way desired. Bespoke lives and it's seldom offered in such exquisite form.
Speaking of form, regardless of backdrop, the Bentayga stays composed. Whether you're pushing through the winding roads of Upstate New York, blasting past the limits of conventional SUVs or just touring the city on a Monday morning, the drive of the fastest SUV in the world is unmatched. Frankly, it drives a lot like its GT brethren and with a top speed of 187 mph and a 0 to 60 time of just 4 seconds, you can't even argue. That's coupe-like performance translated to a full-size SUV and having that type of performance at your disposal is pretty damn gratifying.
Having driven and spent ample amount of time with both the Bentley GT and Mulsanne, I can say the Bentayga's worth its price, especially when you factor in the utility and versatility it offers. There's no doubt city-living adventurers will feel right at home no matter where their journeys take them, turning heads along the way.
Check out more of our time with the 2018 Bentley Bentayga in the gallery up top and look for it at Bentley showrooms now.