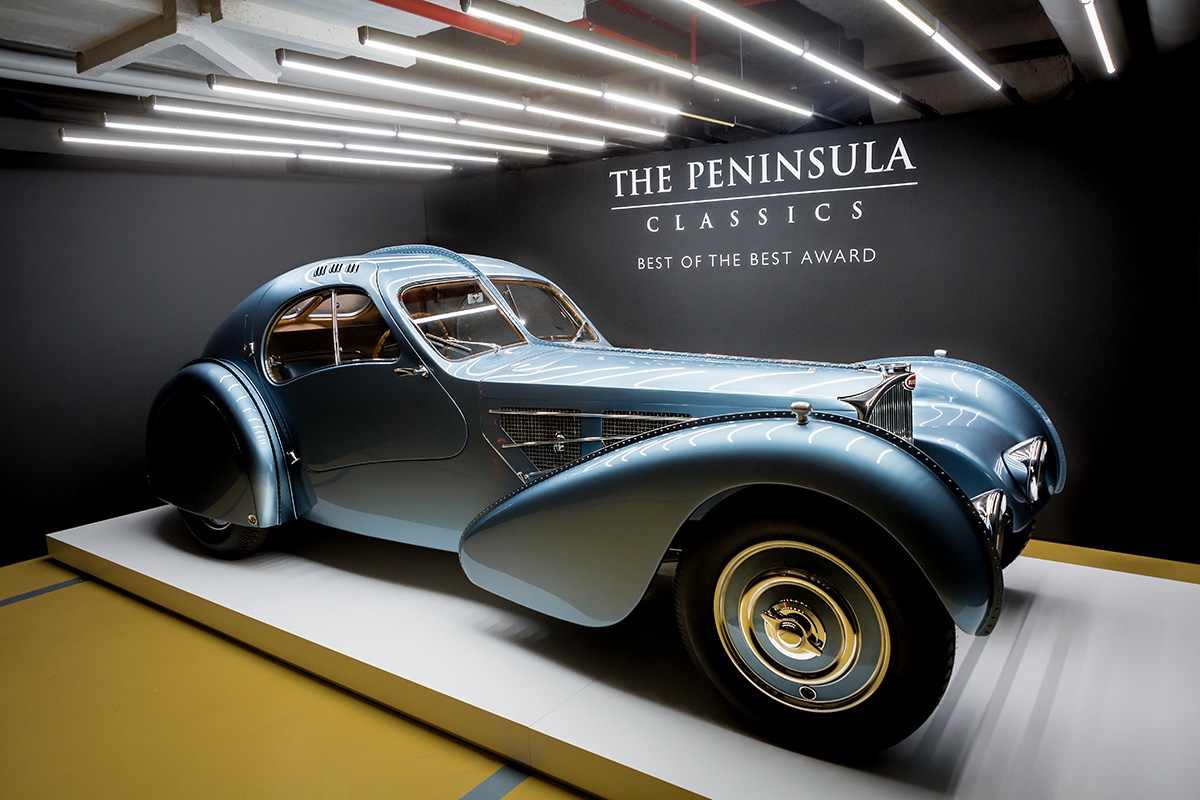 Rare 1936 Bugatti Type 57SC Atlantic Wins The Peninsula Classics Best of the Best Award
Last night, The Peninsula Paris hotel played host to a memorable evening as this rare 1936 Bugatti Type 57SC Atlantic was the winner of the third annual The Peninsula Classics Best of the Best Award. The award brings together eight of the world's finest race cars from the top international concours events to compete for the title of the most exceptional car in the world. And where the previous two awards have been handed out during Monterey Car Week, this year's reveal shifted to The Paris Peninsula hotel during the world-famous Rétromobile event.
As for the winner, The California-based Bugatti is co-owned by the Mullin Automotive Museum, and Rob and Melani Walton, and was named "Best of Show Concours d'Etat" at the 2017 Chantilly Arts & Elegance. It's one of four Type 57 Atlantic models ever produced, with only three in the world remaining. The vehicle features an all-aluminum body and was designed at the height of the art deco movement by Jean Bugatti, Ettore Bugatti's son. This also happens to be the first Type 57 Atlantic produced and is the only surviving "Aéro Coupé," a designation given to the first two cars that were mechanically very similar to the Aérolithe concept of the year before. It was originally owned by Britain's Nathaniel Mayer Victor Rothschild, third Baron Rothschild, and was most recently on display at the Los Angeles-based Petersen Automotive Museum for the "Art of Bugatti" exhibit.
The other finalists in this year's running made it that much more difficult to guess who would win The Best of the Best Award. The short list included a 1939 Alfa Romeo 8C 2900B Spider (Amelia Island Concours de Sport), 1951 Ferrari 212 Export Cabriolet by Vignale (The Gran Turismo Ferrari Cup, Cavallino Classic), 1957 Alfa Romeo Giulietta Sprint Speciale Prototipo by Bertone (Concorso d'Eleganza Villa d'Este), 1933/35 Lancia Astura Aerodinamica Coupé (Concours of Elegance Hampton Court Palace), 1957 Ferrari 250 GT Cabriolet (Goodwood Cartier Style et Luxe Concours d'Elegance), 1929 Mercedes-Benz S Roadster (Pebble Beach Concours d'Elegance), and 1964 ATS 2500 GTS Coupé by Allemano (The Quail, A Motorsports Gathering).
The Hon. Sir Michael Kadoorie, Chairman of The Hongkong and Shanghai Hotels, Limited and co-founder of the award said, "My great hope is that we not only succeed in thrilling long-term car enthusiasts, but that this award will also ignite a new-found passion for those just discovering the world of motoring." Given the cars that have won the award thus far and the exceptional stories they carry with them, it's been something that many car lovers, new and old, now look forward to and will continue to anticipate.
Check out more looks of The Best of the Best Award winner in the gallery above and head to The Peninsula to learn more.