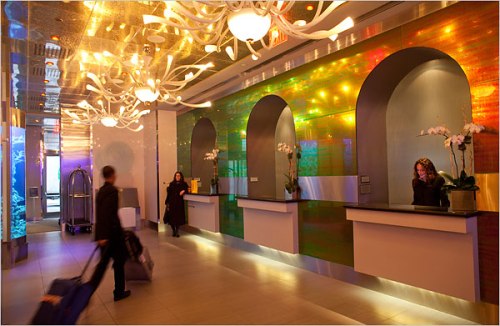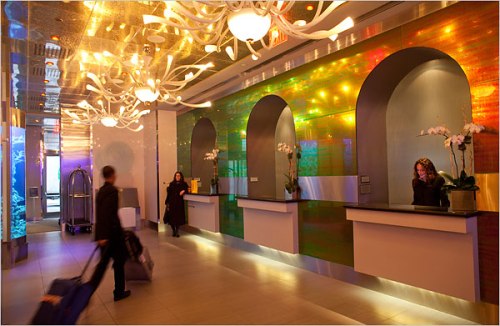 American hotelier Vikram Chatwal is slowly popping up hotels in prime locations. His fourth, Stay is located near New York City's Times Square, a good walking distance to all things important when visiting the Big Apple. You'll get more bang for your buck as you hit the ever-so elusive medium between comfort and accomodations.
In this day and age, state-of-the-art technology is all we need to survive, which is why Stay has kitted all standard rooms with a wall-mounted flat screen, and Alcatel phones which are Skype- and Bluetooth compatible and they even offer video, which is linked to the doorbell so you can see who's knocking as well to which concierge you're speaking. The alarm clock is a Bose radio with iPod dock, and the hotel will also lend you a loaded iPod upon request.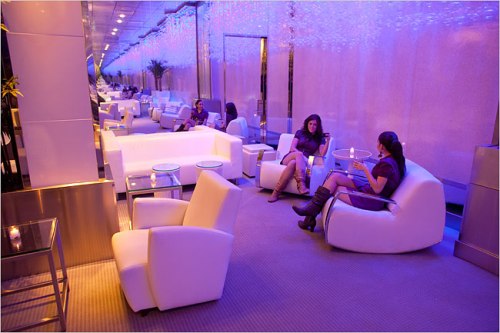 Don't think that they've cut short on comfort because the 300-thread-count sheets are hand woven in India. The large-framed prints of fashion photos and neutral "greige" linen-textured wallpaper help to bring a aura to the rooms that you wouldn't expect from a former Quality Inn. Yes, it used to be Quality Inn. 
If standard rooms aren't enough room for you, you can always opt for one of the eight rooms with two double beds or one of the 15 with king beds and walk-in closets. 
Pricing is usually around $565 but that has dropped down to an amazingly cheap $229 and even that has been topped recently. Recently, the hotel's Web site was offering rooms for weekend stays starting at $149. 
So when you do decide to visit the Big Apple, we always suggest you do your research but it wouldn't hurt to take our advice and book the Stay hotel as your warm bed after long and exhausting day filled with museum tours and extravagant luncheons. 
Insight from New York Times Travel Guide