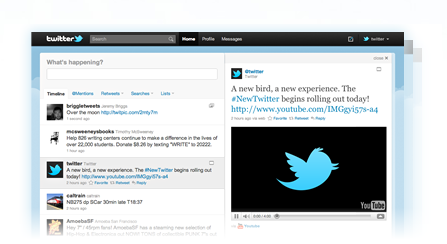 Twitter has taken the covers off a pretty extensive site redesign. It seems this new redesign will put a damper on many of the desktop Twitter applications out there right now. The site's actually more user-friendly now with a much more streamlined approach. @mentions, retweets, searches, and lists can be found above your timeline on the left while the right side of the screen gives us favorites, TTs and even whom you recently followed and vice versa.
I think the coolest part of the upgrade is the lineup of partnerships to get content directly embedded in a fairly simple manner. Highlighted partnerships include Dailybooth, DeviantArt, Etsy, Flickr, Justin.TV, Kickstarter, Kiva, Photozou, Plixi, Twitgoo, TwitPic, Twitvid, USTREAM, Vimeo, Yfrog, and YouTube.
No need for us to bore you with all the details, as Twitter actually put up a two-minute video highlighting some of the features. Look for the new Twitter.com to begin rolling out immediately and go full-force in a couple weeks.
Video after the jump.