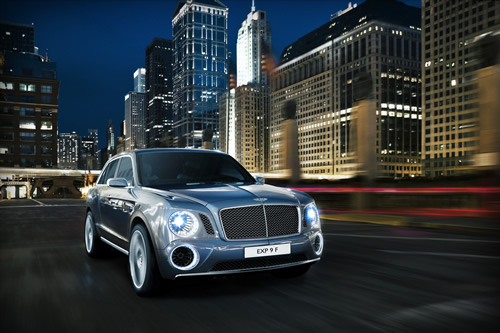 Today at the Geneva Motor Show, Bentley took the covers off their SUV concept car — the EXP 9 F. It's a fusion of contemporary crafted luxury, advanced in-car technology, commanding driving position and all-terrain capability in a spacious and high performance SUV; pretty much everything we've come to expect from the British coachmaker. The EXP 9 F could potentially be the third Bentley model-line alongside the bespoke Mulsanne and the high performance Continental GT, GTC and Flying Spur. The exterior design features several signature Bentley cues such as matrix grill and round lamps as well as rear lights inspired by the forms and details of fighter jet engines. Speaking of jet engines, power comes from a 6.0 litre, twin turbocharged W12 engine that's mated with an 8-speed transmission.
Enter the luxury SUV and you'll be welcomed by a contemporary cabin design with fine details such as handcrafted woods, leather, and polished metal elements. The panoramic glass panel roof design is an added touch while you'll be stepping on luxurious and reversible silk wool floormats: one side finished in durable ribbed saddle leather. Wealth. You'll also find some pretty heavy tech usage by way of touchscreens throughout the car like in the 3D navigation that's flanked by two analogue reverse-read dials. The rear seat business mode comes with fold-down keyboard and internet connectivity via an iPad or tablet, powered footrest and infotainment movie screen.
Alasdair Stewart, Member of the Board for Sales and Marketing at Bentley said that, "A Bentley Grand Tourer doesn't necessarily have to be a coupe, a convertible or a saloon — it could equally well be an SUV. What's important is that it should be true to Bentley's brand values and in line with the desires and needs of our customers." The EXP 9 F is a magnificent prototype and if it's received as positively as we think it will be, then expect an SUV in the future from Bentley.