Presented by Ford 
Venice Beach is a people watcher's dream come true. People from all walks of life converge in this small area on the Pacific coast to hang out, eat food, and enjoy the beautiful weather. What we've always loved, though, is the community's outgoing spirit and desire to promote a healthy lifestyle. Along its several-mile boardwalk, Venice Beach offers up a wide range of retail shops and experiences, but the bustling area is also a great backdrop for your next workout. We've brought together all the different ways you can workout here, so you can personalize your routines and keep things fresh. Check it out.
Swimming
The first and most obvious option is dipping into the Pacific Ocean's clear waters. The tides can get aggressive, but the water's usually warm, and you can get a solid full-body workout in.
Surfing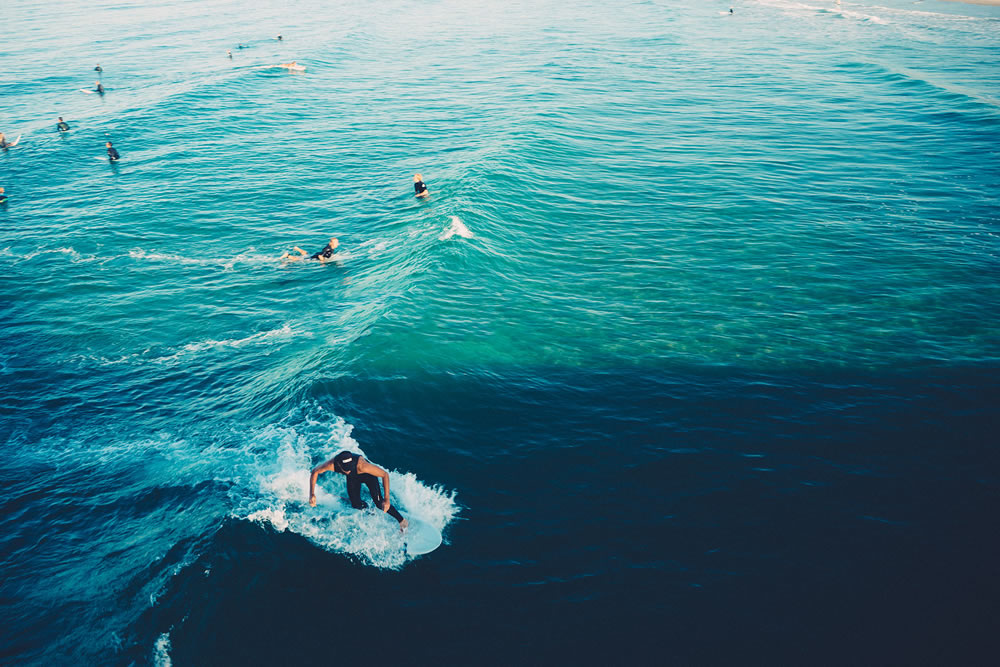 Expect the tides to come in like clockwork at Venice Beach, making for a perfect surf session no matter the time of day. The boardwalk's got a few shops for renting surfboards or paddleboards, but our favorite is Kapowui Surf Club, as they offer lessons and group sessions as well.
Volleyball
Venice Beach's volleyball courts are near 26th Street, sitting right beside the Ocean Front Walk, the town's pedestrian-only walking path. There are a few courts, so getting a game with your friends isn't usually an issue, and you can keep an eye on meetup.com to join organized volleyball groups or friendly games.
Basketball


If you're a fan of basketball, then playing ball at the Venice Beach courts is a must. It's where White Men Can't Jump was filmed over 22 years ago and there's still a rich culture around the sport to this day. The Venice Basketball League's been holding organized tournaments for years, but you can still catch a pickup game.
Rollerblading
Many underestimate the workout you get from rollerblading. You not only put your lower body to the test, but your core gets strong conditioning as well. Head to a shop like Boardwalk Skate to rent some blades and hit the smooth surface of the Venice Bike Path.
Cycling
Not only can you rent rollerblades on the boardwalk, but shops like Venice Bikes & Skates also give you access to bicycles. Take full advantage of the seven-mile, flat Venice Bike Path that runs up to Will Rogers State Beach, while taking in the sights of the skies and ocean to your left.
Muscle Beach
You may have heard of Muscle Beach. It's where guys like Dave Draper, Arnold Schwarzenegger, and Larry Scott used to workout. Nowadays, it's gone through some renovations and is more like an open playground than anything else. There's still a good amount of weight lifting equipment, but there's also a sandbox area with gymnastics, rope climbing, and acrobatic bars. 
Running


There's something peaceful about waking up and hitting the Ocean Front Walk for an early morning run while the sun's still coming up. Whether you choose to hit the pedestrian walk or go on the sand, a solid workout's guaranteed — along with a slight breeze coming in from the ocean to keep you going.
Venice Skate Park
One of the most enjoyable activities in Venice is the city's skate park. It's great for honing your skills, but it's just as enjoyable for spectators. The park plays host to some of the best skaters on the West Coast, and many others from around the globe. It's right by the water, and has ramps and curves for every skill level.
Venice Beach Drum Circle
No matter the day, if you hit the sands of Venice Beach, you'll likely come across the Venice Beach Drum Circle. It's an eclectic mix of locals and visitors, all joining in on drumming, singing, dancing and just enjoying the moment. The vibes change with the folks playing the bongos and since it really pulls in a lot of energy from the crowd, you really get unique experiences every time you're out there. If you're good on the drums, this could be a solid test of your skills and your resilience. The same can be said if you love to dance. You really get a chance to feel the music and express yourself openly without any real outside influence. Everyone's in his or her own place but joined together in harmonious art at the same time. And honestly, it's a workout you won't find in any other city.