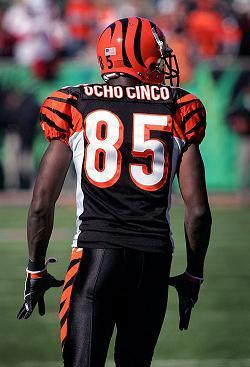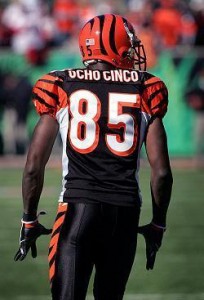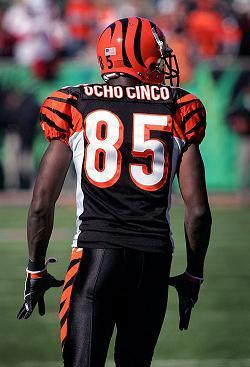 With Chad Ocho Cinco no longer Chad Johnson, it's becoming difficult for the star to put his new surname on the back of his jersey.  With the NFL's player licensing agreements, it's going to be tough.
Before he can wear a jersey with his new surname emblazoned on the back, he first must buy every "C. Johnson" jersey for sale nationwide. And there are thousands of "C. Johnson" replica jerseys available, with a production cost of about $48 apiece.
The player is essentially responsible for the old piled up inventory that will be useless after Ocho Cinco hits the back of every #85 Bengals jersey on the market.  Ochocinco (one word) became the receiver's legal surname Aug. 28. But he is called Chad Ocho Cinco (two words) on the team's official roster.
If the "Ocho Cinco" jersey is approved for on-field use and sale by the NFL, it could be lucrative not only for retailers, Reebok and the NFL, but also for Ocho Cinco. Players receive a portion of the revenue from their jersey sales. The "C. Johnson" jersey finished last season as the 14th-most popular, according to NFLShop.com, and an "Ocho Cinco" change could drive popularity back into the top 10.
NFL's currently playing it by the books and is keeping its licensing agreement as priority numero uno.  Reebok sees the lucrative opportunity that is in front of it, but is following the NFL's lead on this, so that this does not become a regular occurance.
Source:  espn