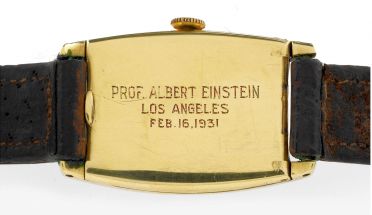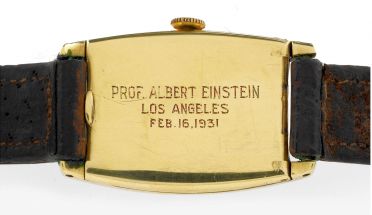 On October 16th, Antiquorum will be auctioning off a Longines wristwatch in New York.  Who was the owner?  Well, none other than Albert Einstein himself, who was 51 at the time he received the gift on Feb. 15, 1931 in Los Angeles.
It was presented to Einstein by Edgar Magnin, celebrated Hollywood "rabbi to the stars," at a gala luncheon in honour of the German-born physicist and Nobel laureate in Los Angeles in 1931.
The 14-carat gold timepiece could go for $20,000 to $30,000 next month.  It's an amazing watch with a distinct design, but its owner, best known for the theory of relativity, is what's boosting its value.
Images after the jump
Albert Einstein's Timepiece:
Source: pleasure.dk