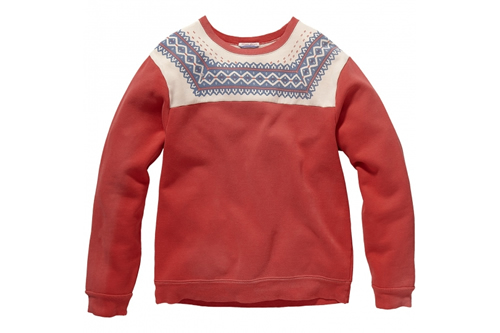 GANT Rugger has a tremendous lineup for the current F/W season, ranging from well-fitting blazers and shirting to impeccably-crafted outerwear and accessories. One of our favorite pieces from the current offerings is the Blogger Delight sweatshirt. Beyond the name, the sweatshirt's actually be dope as well but that's expected when you have Christopher Bastin at the helm. Well, we're giving one away just in time for the holidays. A short quote from the man behind the sweatshirt after the jump as well as instructions on how to enter.
"We wanted to do something different than the regular heavy-knit snowflake Jacquard. Fifi and I stumbled upon a sewn-together kids sweater at a vintage store in Tokyo and it was so cool, it just begged to be tributed. We both thought, 'Holy shit, this sweater would explode on Tumblr!' Since the blogging community has always been an integral part of our design inspiration, we kind of owed it to those dudes and dudettes. No one wants to be called a blogger anymore, which makes it even more funny. And some stuff tends to fall victim to its own success before they even hits the sales floor because it's been blogged to death by "bloggers who aren't bloggers." It's very Kafka-esque and very 'fashunz' at the same time."
How to win
TWITTER
1. Follow @GANTRugger and @PorHomme on twitter
2. Tweet about the contest with both @GANTRugger and @PorHomme mentioned and hashtag "#PHGANTDelight"
FACEBOOK
1. LIKE GANT and Por Homme on Facebook
2. LIKE or comment on THIS POST about the contest
Two ways, pick your social network, do both to increase your chances. Contest ends Monday, December 3rd, 2012 at 11:59 PM EST.
NOTE: This contest is only open to US & Canadian residents. You must be 18 or older and live in the United States or Canada.
UPDATE: This contest has ended. Congrats to Deckel Israeli on winning! Also, much thanks to the folks at GANT for helping put this together and to all that entered!