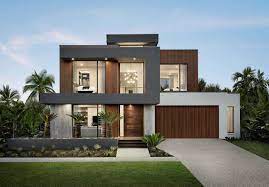 Some color schemes tend to be versatile. You can mix and match them with anything to create impressive décor. For example, you can think of blue. The chances of going wrong with this shade are significantly less. But you have to be accurate about the combination. If you have an eye for beauty, you can use the variations of this tone with about any color to blend with the design. However, it can be perplexing to decide a theme, especially in the initial stages quickly. You don't have to feel bothered by this, though. It's a teething problem. When you decorate your home with blue, you make your interiors beautiful in every corner. Here are some suggestions for you to help you get going in this direction.
Mix blue with gray and fuchsia
Dense colors help you make a style statement. If your option is a cool blue shade, you can pair it with a bright fuchsia to add character to the room, which can be your living area as well. The walls can be dark grey to make your background a little less intense in its neutral tone.
Visualize soft blue with dusty rose and gold
The very expression of this décor seems to be feminine. After all, the pastel shades exude elegance. And when you marry pink and blue tones, they create a stunning effect through furniture, floral designs, and more. You can make this combination work for you by leveraging glossy colors and gold accents. Imagine a setup of pink ceilings, pink upholstery, blue floral design wallpaper, and a metal gold chandelier. The theme can go well with your dining room.
Test the safe option of blue, white, and black
The kitchen can wear an all-white look, interrupted by other accents occasionally, such as a blue kitchen island. It can look pretty modern. You can enhance the contemporary feel of the place through black accessories, including light fixtures, hardware, etc. A dash of gold can also do the trick. Think about pairing a white sink with a gold faucet for an idea.
Go upbeat with blue and mustard
Contrasting colors can make any room stand out if used carefully and smartly. For instance, you can never feel disappointed if you mix blue with yellow mustard tones in the bedroom and living areas. When you have to subdue the brightness, you can rely on darker shades of blue and yellow.
Incorporate the magic of precious stone colors like sapphire, emerald, and amethyst
The easiest way to replicate richness in your décor is to lean on luxurious shades of purple, green, and blue. These colors combine well in a formal space, such as your dining area, where you host guests over lunch or dinner. You can infuse a sense of sophistication a bit more by adding materials like velvet and bold patterns. The overall feel of the space can be pretty upscale.
Tap into cheerfulness with denim blue and cherry red
Creating a kid's room can be exciting but overwhelming also. You wouldn't want to make any mistake with this area as this belongs to your kids. One of the things that permeate all the kid spaces is energy. You have to make their room bright and joyful. To achieve this, you can keep the walls neutral white and decorate them with red and blue accessories, which can be a rug, fabrics, etc. If this place has to look more dynamic, you can use solid color with classic stripes.
Infuse softness through steel blue, silver, and pearl
What do you expect your bedroom to look like with blue, pearly white, and silver-gray accents? Space can seem calming, surreal, and engaging in an instant. You can replicate this in your room if you want to bask in soothing and sophisticated charm. You can layer the décor with fabrics and metallic decorative items to make everything even more luxurious.
Indulge in a spa-like feel with watery blue, taupe, and buttery yellow
The scheme can adorn even a tiny bathroom. Hence, you don't need to worry about anything. Just imagine the walls and bathtub exteriors in glossy blue tiles. A sense of calmness and spa-like vibe would transpire. The use of taupe color on a narrow vanity can easily match the aura of the shimmering tiles. You can apply a buttery yellow tone to balance the cold and warmth in the bathroom in that same backdrop.
Go with cobalt, brown, and linen for a beach look
Most beachside houses embody a casual look, but you can give your home a touch of sophistication with simple updates. For example, you can expect cobalt, brown, and linen white colors to create a costal effect in your traditional home. To complete the look, you can keep wingback chairs with blue-and-white striped upholstery, something typical of a classical ocean-side charm. You can build this through dark furniture and flooring as well. Make sure the walls, trimmings, and built-ins are white. It is an essential ingredient of a beach décor.
Add natural beauty through ocean blue, leafy green, and coral red
Everyone is aware that nature is abundant with shades of green and blue. You can use these two tones on the walls and accents to make your house more habitable and close to nature's beauty. However, the presence of red can help you balance the two sides of the cool tones.
As you can see, one single color can have plenty of combinations to jazz up the look of your house after your imagination. To make the best use of the palette, you need to go deep into each of them and learn about their variations. It would help you determine different combinations for different corners of the house. Since these have a lot to do with energy levels, you wouldn't want to rely on anything that can be boring, extra energizing, or so. The color scheme should make you feel warm while maintaining a soothing ambiance. For this, it is essential to remember the subtleties of the tones. If you know them well, you can use them the way you desire.