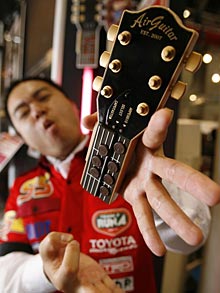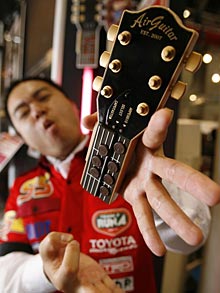 Times have definitely changed from when we were growing up.  If someone wanted to sing or play drums or the guitar, they'd have to cough up mucho dinero in order to do so.  Not anymore, my friends.  When Guitar Hero was released back in 2005, it was an instant hit and MTV's Rock Band followed with its own success.
Now, it seems that Air Guitar has released Rockstar which looks to be different than the competition in more ways than one.  Rockstar has the head and neck of a guitar and laser technology to allow wannabe rockstars to play along with eight pre-recorded songs.  It also has input and output jacks so it can be hooked up to headphones or speakers.
It's about 30 bucks – cheaper than Guitar Hero and Rock Band, giving it instant potential with parents that are looking for the cheap alternative to buying a console and then a game on top.  Oh, and did we mention the drums or the guitar?  Guess it still costs to be a make-believe rock star, but still not as much as the real deal.
So you've seen the success of Rock Band and Guitar Hero, but will Rockstar do what many think it will?  'Tis the season to find out and there isn't much time before our siblings start making their Christmas lists.  Will this be on there?
Buy it: play.com