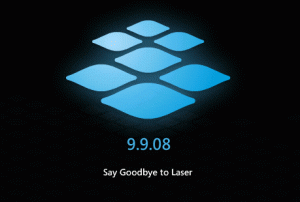 This week, Microsoft's set to announce something different than anything before.  No, we're not talking about that horrible advertisement with Gates and Seinfeld (We have to admit though, it's growing on us).  On Microsoft's hardware department's homepage, the above image was shown not too long ago, leaving us to think about what's to come.  Apparently, the beans have already been spilled.  Microsoft is set to launch a new type of mouse for your PCs that uses a new technology called "Blue Track."
The MS Explorer Mini Mouse was spotted on Amazon.de last week.  It features Blue Track technology.  It's said to be based on a blue LED combined with a wide-angle lens that's supposed to work on more surfaces than laser and optical.  With the size of this mouse and it's wireless adapter, it seems that Microsoft is aiming this at people on the go.  Guess we'll have to wait and see, right?
Check out the MS Explorer Mini Mouse below.
MS Explorer Mini Mouse: