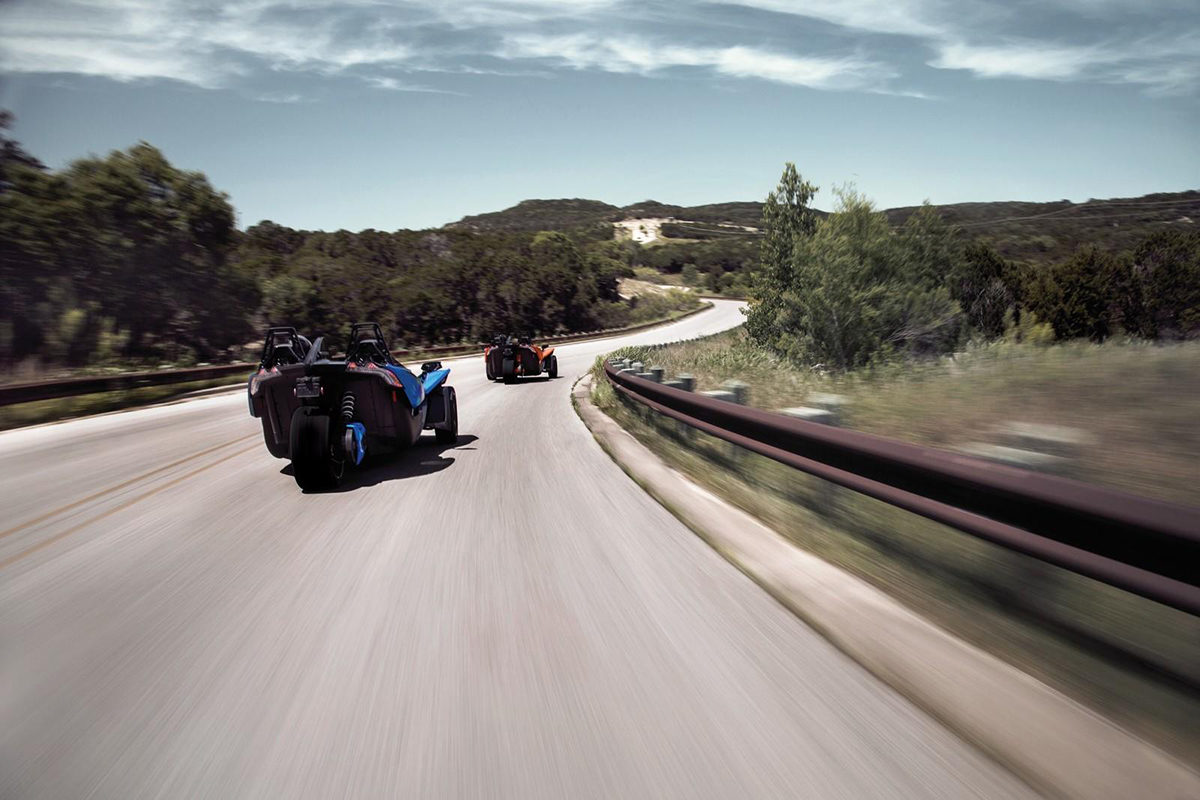 At first glance, it's hard to describe exactly what the flagship Slingshot SLR is. It's not a motorcycle, nor is it a car. It's a three-wheel "autocycle", the newest vehicle class from vehicle manufacturer Polaris. This basically means that it can be driven with a basic driver's license in compliant states, as long as drivers abide by the state's motorcycle helmet laws. For those not willing to go two wheels but still want an unrestricted open-air experience, the Slingshot might be it. We spent some time with one not too long ago and we're already wishing we could turn back the clocks.
What's not to love? The 2018 Polaris Slingshot SLR lineup has a lot to offer, even from a tech standpoint. It comes standard with their Ride Command infotainment system. This 7″ multi-touch display, which also works with gloves, includes turn-by-turn GPS navigation, back-up camera Bluetooth or USB connectivity for mobile phones, radio, and generally customizable screens.
As far as performance goes, Slingshot SLR's come equipped with a GM 2.4-liter, five-speed transmission engine, providing 173 horsepower and 166 pound-feet of torque for a dynamic driving experience. A premium Rockford Fosgate® audio system also comes standard so drivers can enjoy whatever they're listening to while driving. Sparco® provides the standard steering wheel, shifter, and pedal covers.
In addition to the standard SLR flagship, Polaris is also offering a premium Slingshot SLR LE that has a few unique upgrades. It comes standard in Ghost Grey two-tone paint with Lime Green accents as well as boasting 10-way BILSTEIN adjustable shocks and special edition graphics; everything offered in the SLR comes standard in the LE.
Drivers looking to upgrade their SLR or SLR LE can also add on rear fenders, a premium audio kit, or a special quilted comfort seat, starting at $699 USD. Other various upgrades can be found on Polaris' website. From my time with the Slingshot, what I noticed more than anything was the autocycle's sense of community. It's amassed a cult-like following of owners and fans, with the owners purchasing a Slingshot and then making it their own through different mods and edits. Wheels, wraps, and more are all at play.
The SLR starts at $28,999 USD ($29,299 MSRP in California), and more information can be found here.