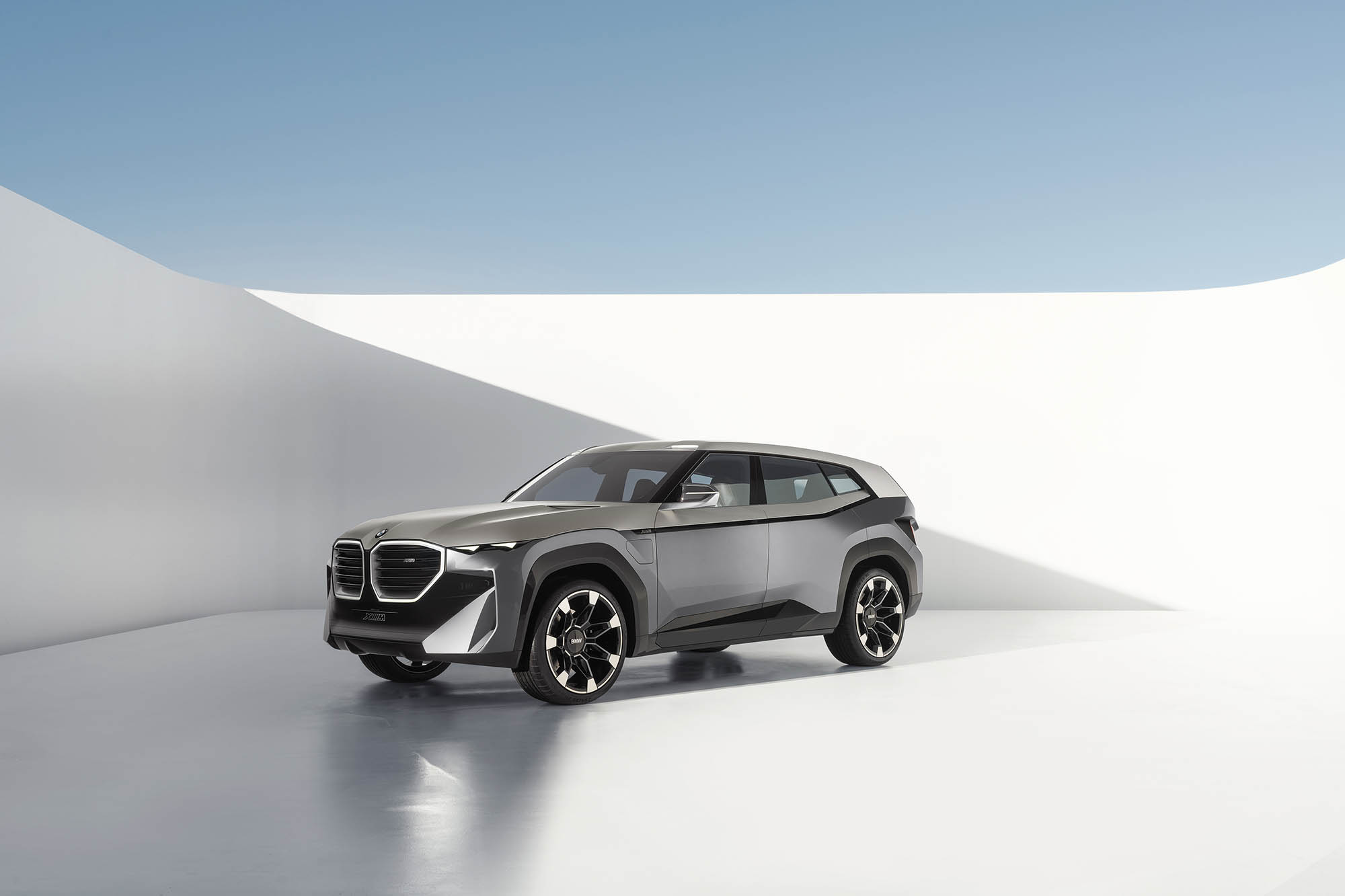 BMW has introduced the Concept XM, the first stand alone M car since the iconic M1. It just so happens to be an angular, expressive, and explosive hybrid SUV. How and where a car is unveiled tells a lot about the brand's intentions and what it's meant to represent. For BMW to unveil the Concept XM here in Miami on the eve of Art Basel not only amplifies the car's expressive nature but it also marks 50 years of cultural engagement for the German automaker. The BMW Concept XM serves as a true intersection between mobility, art and design.
There is nothing subtle or understated about the Concept XM. It's a deliberate push into the future while pulling inspiration from the 1970s M1. Up front, we get thin daytime running lights and horizontal kidney grilles that give the Concept XM a wide, aggressive first expression. The two BMW roundels on the rear window are very M1-esquire while the sculpture-like LED taillights wrap around the sides to further widen the Concept XM's stance.
The Concept XM is another polarizing design from the luxury auto brand that's hoping to pull in a segment of customers, ones that are unapologetic and more concerned with doing things differently than with what others think. Expect the front-end design to influence future BMW vehicles but the XM will only be available as a fire-breathing M car, the first M plug-in-hybrid SUV ever with BMW's twin-turbocharged V-8 engine being mated to an electric motor helping to deliver 750 horsepower and 737 pound-feet of torque. All-electric range comes in at 50 miles.
On the outside, the Concept XM features a two-tone paint scheme which could land in the final production vehicle. On the inside, there's also a sense of duality, with the front seat experience being greatly differentiated from the rear. A driver-focused cockpit transitions to an all-new rear compartment design. High-comfort seats and illuminated, sculptural headliner help to craft the M Lounge. Vintage leather hides and flooring in varying colors and materials help to further the shift.
The BMW Group is also celebrating 50 years of cultural engagement and unveiled the Concept XM with a performance by GRAMMY-award winning hip-hop and recording artist Nas. New York-based artist and sculptor Kennedy Yanko was also commissioned for a sculpture which was on display at the event, furthering the group's commitment to culture and the arts.
About 90% of what you see here in the Concept XM will make into the BMW XM, which will be produced from the end of 2022 at the 7-million-square-foot BMW Group Plant in Spartanburg. See more of the BMW Concept XM in the gallery and look for details around pricing and availability in the months ahead.