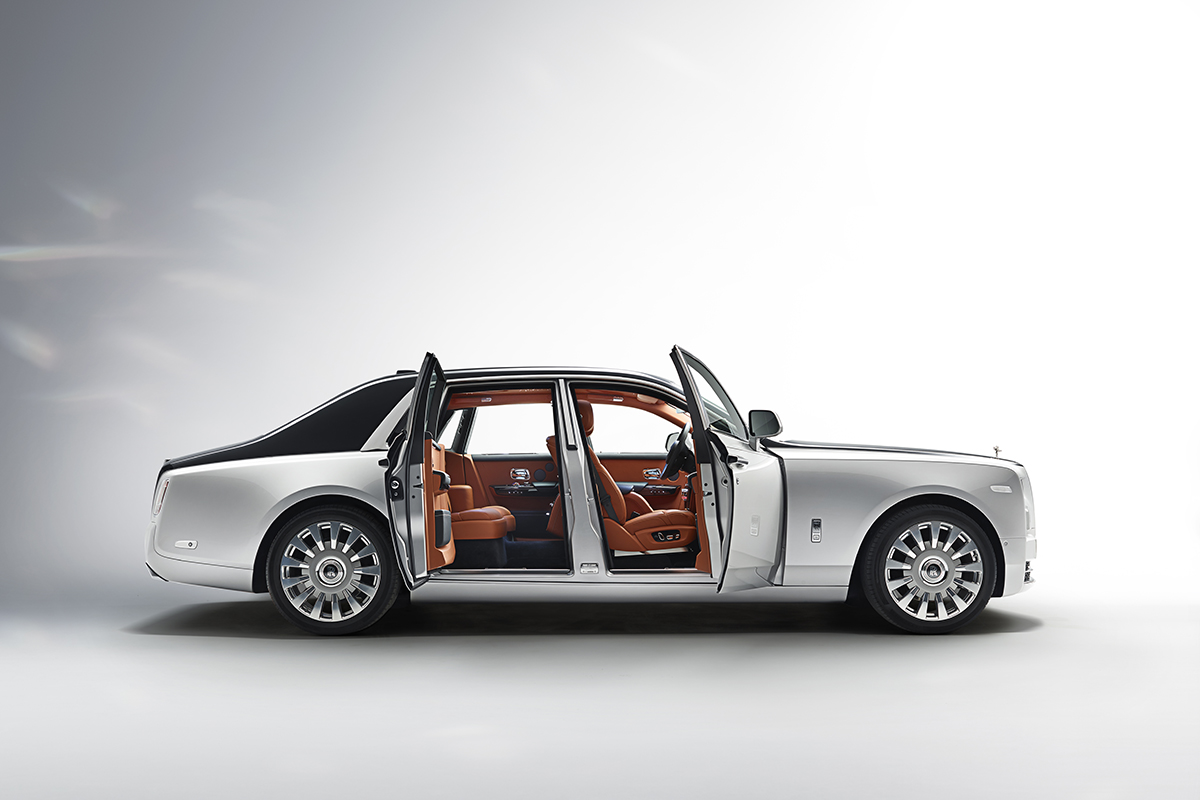 New Rolls-Royce Phantom Officially Unveiled, Aimed At Redefining Luxury Once Again
After some teasing and a ton of anticipation, the all-new Rolls-Royce Phantom has been officially unveiled. And though we've seen Goodwood's finest churn out some impressive vehicles as of late, there really is no comparing to their flagship, the Phantom. The latest iteration continues on the success of the Phantoms before it, each delivering unprecedented refinement and class for over ninety years. And where most so-called luxury brands are looking at shared platforms to scale production, Rolls-Royce is focusing on small-volume manufacturing of a dedicated 'Architecture of Luxury'. The new Phantom is the first to use the Architecture of Luxury, an all-aluminium spaceframe architecture designed by Rolls-Royce engineers that will underpin every future Rolls-Royce. Some of the major benefits of this new architecture include better ride comfort thanks to the lightness whilst increased stiffness delivers functional performance. The Magic Carpet Rida and the latest generation of self-leveling air suspension gets an upgrade here as well, thanks to the lighter architecture.
The Rolls-Royce Phantom has always been seen as a silent assassin. Though its looks might command your attention from a distance, the fact is that if you're seated inside, you'll feel like you're in your own oasis. The most silent motor car in the world is fitted with 6mm two-layer glazing all around the car, nearly 300 pounds of sound insulation, the largest ever cast aluminium joints in a body-in-white for better sound insulation, and use of high absorption materials. It's unbelievable how detail-oriented their approach is here. Rolls-Royce even worked with their tire supplier to invent 'Silent-Seal' tires, which is a specific foam layer placed inside the tire to wipe out tyre cavity noise and reduce overall tyre noise by 9db. The new Phantom is 10 percent quieter than its predecessor and it doesn't even stop here. Rolls-Royce has also introduced a brand new V12 engine to ensure that silence. The new 6.75-liter V12 powertrain comes fitted with twin turbos to deliver roughly 663 lb-ft of torque at just 1,700 rpm, giving the driver a calm low speed progress and access to what may feel like limitless power when one needs it. The Satellite Aided Transmission (SAT) is married to a ZF 8-Speed gearbox so you'll prepared for whatever the road brings.
Though we've mentioned the underpinnings and all the advancements made to elevate the performance and comfort of the eight iteration of the Phantom, the tech inside the cabin is also another leap taken by Rolls-Royce. It's dubbed the Electronic Architecture of the New Phantom and acts as the nervous system controlling everything from the Alertness Assistant, Night Vision, an industry leading 7×3 high-res HUD, WiFi hotspot, and of course the latest navigation and entertainment systems. And of course, all of this is meticulously blended with rich leathers and hand crafted details.
The Phantom is a car you're driven in, not one you'd necessarily need to be behind the wheel to experience in its most complete form. This is the largest Starlight Headliner ever seen in a Rolls-Royce and that alone will either inspire you to do even greater things or put you in a place of peace and calm in a world that seldom seems to be. Passengers are surrounded by high gloss, impeccably crafted tactile wood panelling that can be commissioned for the door interiors, centre consoles, dashboard and picnic tables. The Phantom becomes your home away from home and if you're looking for the ultimate display of luxury and refinement, you won't find it anywhere else.
But let's step back for a moment and enjoy the contemporary work of art that is the new Phantom. The body joining process ensures there are few, if any, visible join lines between body panels, so one might think the new Phantom's made from one solid block of aluminum. The reimagining of the Pantheon grille is at the heart of the new Phantom's design with last year's 103EX Concept serving some inspiration here. But this is the first time the Phantom's grille has been integrated into the surrounding bodywork, resulting in a cleaner, reduced design with modernity and clarity in mind. The headlamp graphic delivers confidence with fresh, frosted internals while a ring of daytime driving lights and the most advanced laserlight system give visibility for over 1900 feet down the road. The rear features a more graceful taper while the roof is exactly twice the height of the car's big tires, a deliberate execution that's remained from previous models.
With a direction that's focused on forging long-term relationships with smaller suppliers run by families that will focus on them and by staying far away from a mass-production approach, we might forget that Rolls-Royce sits within the larger BMW Group. And that might be the most exciting part about this new Phantom, that Rolls-Royce is working even harder to ensure that it continues to be the 'Best Car in the World' and with a spirit that's focused on creating bespoke luxury products rather than mass-market vehicles hidden underneath a luxury marketing veil.
The first Phantoms will get to customers later this year and while no price has been announced just yet, the new Rolls-Royce Phantom will cost around $500,000 USD.