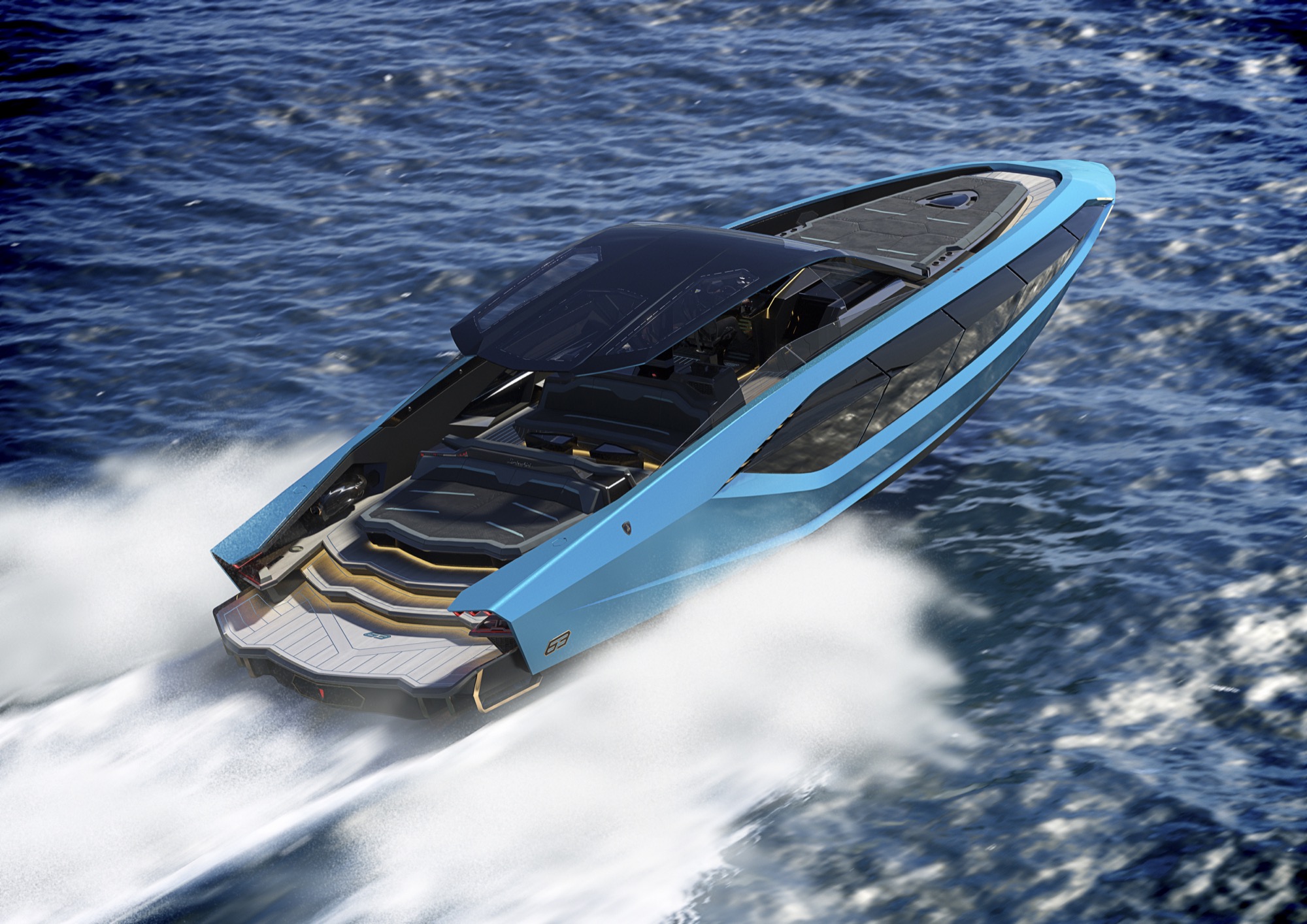 Tecnomar for Lamborghini 63 Motor Yacht Takes Italian Carmaker's Performance to the Sea
Automobili Lamborghini and The Italian Sea Group have unveiled the 'Tecnomar for Lamborghini 63', the Tecnomar fleet's new limited-edition motor yacht referencing Lamborghini's 1963 foundation. Building on shared Italian style and tradition, this is not only an exercise in design but one in performance and lightweight engineering as well.
The details are immense as both companies looked to translate Lamborghini's performance, driving pleasure, and quality to the sea. The Tecnomar for Lamborghini 63 is the result of several collaborative sessions with the contribution of Lamborghini's Centro Stile and direct inspiration coming from the Lamborghini Sián FKP 37. The result is a Tecnomar for Lamborghini 63 which features a super sportive silhouette and aimed at giving the most expressive nautical appearance. Naval engineers experienced in hydrodynamic sciences designed the hull and the superstructure from a high-performance shell. They were charged with interpreting the design lines and all the fine details. You can see Miura and the Countach in the Lamborghini 63 but updated for the modern era. The hard top is direct translation of those seen on Lamborghini roadsters and delivers sun and wind protection without sacrificing performance. Look a bit closer and you'll see the Y-shaped bow lights pull inspo from the Lamborghini concept car Terzo Millennio and to the Sián FKP 37.
Step inside the Tecnomar for Lamborghini 63 and you're met with a future-focused, tech-heavy cabin. Super-performing materials for weight and function marry effortlessly with Made in Italy heritage. Lamborghini's iconic clean lines, hexagon shapes, Y-motif and materials are clearly incorporated into the design, together with the fully customizable colours and materials in the manner of Lamborghini's Ad Personam programme. Lamborghini customers are accustomed to making any car they build their own and that seems to be the case here as well. There's a range of exterior colors and livery options, while the interior comes in two versions and an extensive combination of materials.
Sit in the driver's seat and you see the experience is modeled after that of a Lamborghini's cockpit. The motor yacht's instrument panel feels much like that of a Huracan's, completely integrating all navigation and control systems. There's a ton of carbon fiber detailing, with Lamborghini's Carbon Skin™ used in the sports seats and on the helm, styled as the super sports car's steering wheel. And then there's Lamborghini's iconic start/stop button, (two, one for each engine) making its way into the Tecnomar for Lamborghini 63 exactly without any difference from the one used to start a Lamborghini engine.
See more of the Tecnomar for Lamborghini 63 in the gallery and expect it to land in 2021.