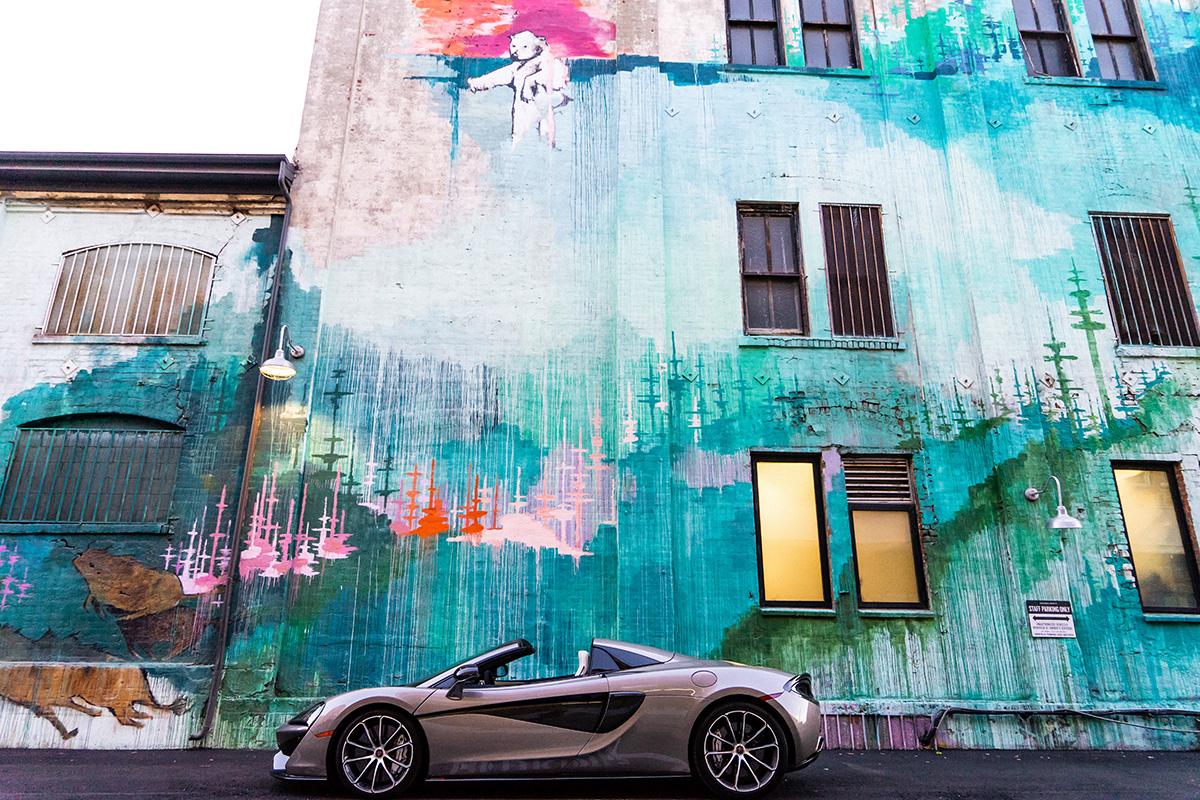 The McLaren 570S Spider Will Give You Butterflies, Goosebumps, And An Adrenaline Rush You Won't Soon Forget
Photos by Atif Kazmi for Por Homme
At last year's The Quail Event, I sat down with Jay Leno to talk car judging, his talk show days, and of course his current show, Jay Leno's Garage. Somewhere along the way, we came to the topic of supercars and concluded that the McLaren F1 is arguably the greatest supercar in the world, certainly of the 20th Century. A car that was unconventional in many ways had gotten the things drivers truly care about more right than any other carmaker — supercar in their stable or not — ever could.
McLaren continues its rebellion as its modern-era stable focuses on emotion and feel before anything else. And one would argue that there's no car more exhilarating than a drop-top McLaren. I drove the McLaren 570S Spider for a few days in Los Angeles and immediately recalled that butterflies-in-your-stomach feeling the 570S Coupe gave me when I got in the driver's seat of that a while back. And just like its brethren, the Spider has a remarkable presence to it that just commands attention. Good looks run in the family.
And those genes carry the torch across the British automaker's entire lineup. From the MP4-12C of seven years ago all the way up to the 720S that just started landing to owners in the past few months. To see that there's no loss of performance and feel in the 570S and the 570S Spider — the brand's entry-level vehicles — is exactly what's going to turn first-time McLaren customers into lifetime loyalists. Because even if you're dropping $200K on a supercar, it better look and move and bend like one. No soft tops, no loss in performance, and certainly no loss in the emotion it evokes when you walk up to one.
Hop inside and strap in to see just how uncompromising and stubborn the McLaren 570S Spider truly is. In the way that it's equally impressive as it floats past the LACMA and in the way it confidently owns the 405 on a late evening cruise. There isn't a street that wouldn't want it and a kid that wouldn't cherish the opportunity to simply touch or sit in it. The McLaren 570S Spider is thoughtful in its design and unwavering in all that it wants to accomplish for its owner. While you might think it can't accommodate an ounce more than two people, it's actually got plenty of space in the front boot and even a bit more behind you when the roof is up. It's nice to see there's some sense of practicality and function being considered when designing super cars. If you have a McLaren in your garage then getting out to Pasadena for the Market or out to Nobu and Malibu shouldn't mean you have to leave your bags at home.
The transfer between a 570S Coupe and a 570S Spider is damn-near lossless. The weight gain is so minute it's not even worth mentioning but given the car's carbon fiber tub, all the engineering that goes into making the retractable hard-top roof is seamless from both a design and performance standpoint.
So what's there to think about? Check out the gallery up top for visuals of the McLaren 570S Spider from our time with it a few weeks back and check it out in person at your nearest McLaren showroom now. And read my review of the McLaren 570S Coupe here to see how much attention this supercar can truly command.