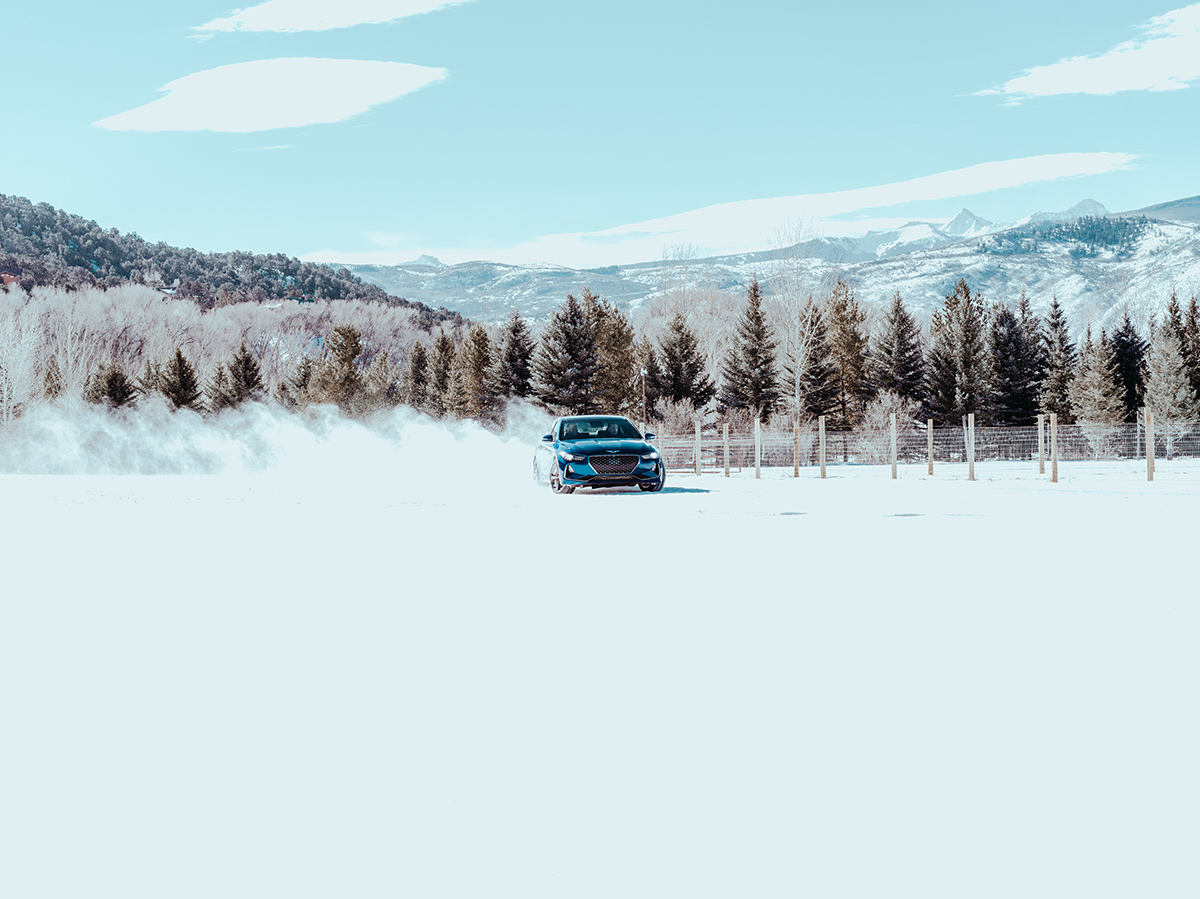 Words and photos by Atif Kazmi for Por Homme
Seems the snow days aren't behind us just yet but a recent trip out to Snowmass, Colorado proved that's not necessarily a bad thing. We caught some much-needed relaxation time but also had some fun with the 2019 Genesis G70 AWD. Offered with a 3.3-liter, twin-turbo V6 that's capable of 365 horsepower and 376 lb-ft of torque, it's a performance-focused luxury sedan that's just another exciting building block for the young automaker.
But Genesis isn't solely focused on the driving as they're doing all the right things to create a seamless ownership experience, from the shopping to servicing and everything in between. Over eighty percent of owners leverage Genesis' door-to-door valet service which picks up and drops off their vehicle when it needs to be serviced. There's an app that helps to integrate Google Home, Amazon Alexa, and in-vehicle features like remote start engine.
From a design standpoint, it's well-proportioned and showcases its confidence in a striking manner. We'll take its muscular rear haunches and Genesis signature grille up front with dark chrome trimmings. The air intakes and lateral LEDs within the headlights are distinct and excites us for where the brand will take things with future models.
But let's enjoy the present for as long as we can. Snowmass, Aspen, and their surrounding areas make for some beautiful backdrops and the G70's confidence at standstill is surpassed through all the twisties. You can enjoy the ECO or Comfort modes at your leisure but Sport mode's where I lived. It's engaging and enabling it not only puts those paddles to optimal use but you can feel the inflatable side bolsters tightening and glueing you to the driver's seat. Launch control, adaptive damping, Brembo brakes, and dynamic torque vectoring control are all standard and help to push the G70 to its limits with an ear-to-ear smile.
Cut through all the mountains and we arrived at a comprehensive, man-made snow track. The photos might tell some of the story but it's important to note just how intelligent the Genesis traction and torque vectoring systems are. With an instructor in the passenger seat, we were told to let loose and wait for the systems to kick in and not a moment too soon. After learning the track a bit more, we were told to turn everything off and see the real difference. This put things into perspective as we were able to see how much help the G70's able to provide, even on regular roads.
Check out more from our snow time with the 2019 Genesis G70 AWD in the gallery above and head into your local to schedule a test drive. Snow track not guaranteed.
All images were shot on the Hasselblad X1D.