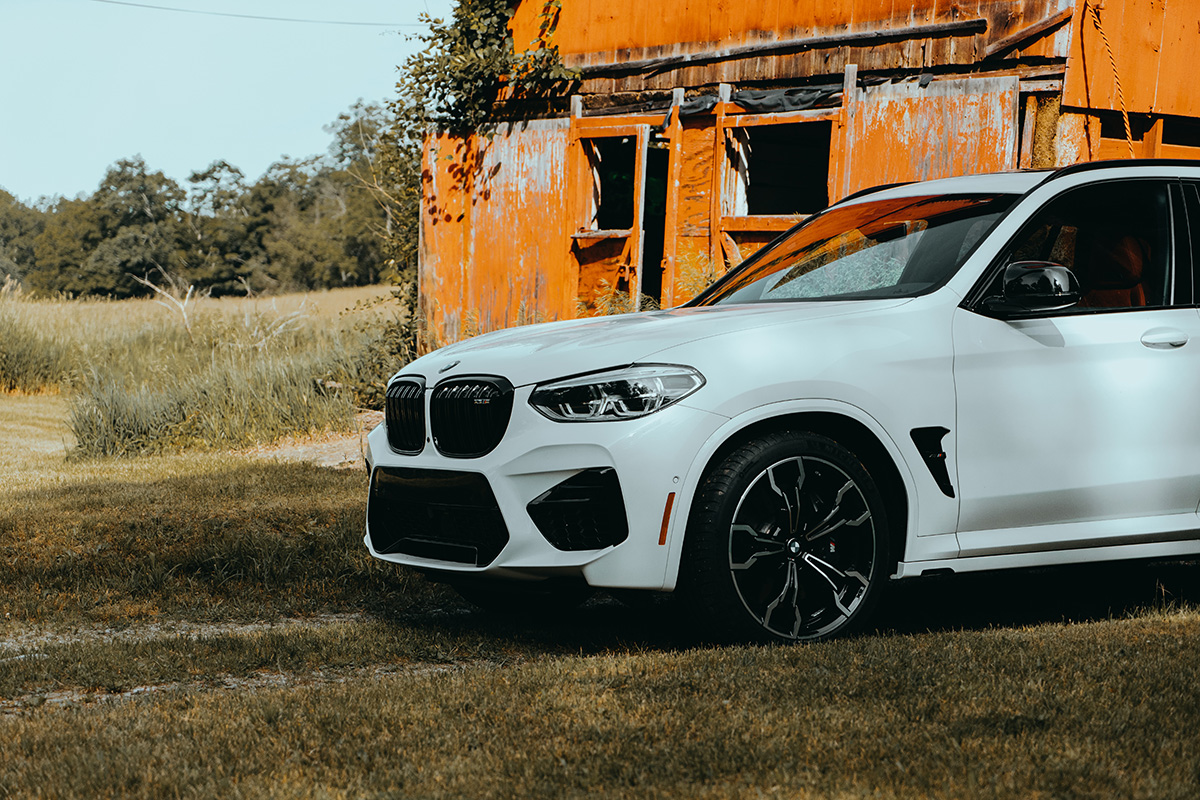 Photos and words by Atif Kazmi for Por Homme
We want performance, we want refinement, we want technology. And as the boom in the SUV segment over the last several years shows, we want space. Simply put, we want it all. Dig deeper and you'll see that performance-focused SUV's speak to a distinct customer, one that doesn't just want all these things but univocally demands them. And while the list is short, BMW's just thrown both an X3 M and X4 M into contention. We recently spent some time with the Sport Activity Vehicle as well as the Sport Activity Coupe — both on track and off — to peek into what the German's have created.
In non-M iterations, both the X3 and X4 check the boxes when it comes to refinement, technology, space, and even performance. The X3 M40i, for example, is no slouch and is a great time for those looking for a non-conforming SAV with a punch. The X3 M and X3 M Competition take this to new heights, a direction you won't see us arguing against. And how could folks that love fast-moving sports cars argue with activity-minded vehicles that can do the same in a more versatile package? Okay, maybe not the same but it's getting pretty darn close.
PUTTING THE POWER
On paper, the X3 M Competition and X4 M Competition both deliver over 500 horses and I can count the number of SUV's churning out this sort of power on one finger. Drill down further to the compact SUV and crossover segments and you're not left with much competition at all. Even while the field looks empty, BMW and M give us the juice from a new 3.0-liter twin-turbocharged inline-six that's made from 90% new parts. It delivers 473 HP in the X3 M and X4 M and breaks to 503 HP in their respective M Competition variants. Torque output is 442 pound-feet for all with an eight-speed automatic transmission on board to manage all this power.
FEEL THE ROAD. OR DON'T.
The X3 M and X4 M both get a variation of the M xDrive all-wheel drive system we've seen in the new M5 and M8 but without the ability to go completely rear-wheel drive. All things considered, X3 M Competition and X4 M Competition go 0-60 in 4 seconds with top speed hitting 177 MPH when you opt for the M Driver's Package (electronically limited to 155 MPH otherwise). The X4 M Competition had our undivided attention on Monticello Motor Club's 3.6-mile road course as we climbed the tach. BMW's new S58 engine redlines at 7,200 RPM and manages the torque effortlessly.
There were very few instances where we were reminded that these are in fact SUV's and not sports cars. That's mostly credited to the reworked suspension and the varying drive mode's that give us more control. Stay in Comfort Mode and we didn't feel a pothole but going into Sport Plus had us ready to devour every twist, bend, and straight with a tremendous feel for the road. There's a huge variance in terms of road feel and comfort and BMW's hope seems to be that you'll take advantage of the entire spectrum.
READY WHEN YOU ARE
It's amazing to see just how much figurative and literal growth the BMW X3 has experienced since launching back in 2003. It started off as just a hunch and has quickly become one of the German automaker's most vital vehicles. See the new one and you actually might mistake it for an X5. That's especially the case for the X3 M and X3 M Competition as both get an even more athletic, aggressive stance. The M Roof Spoiler, aggressive bumper air intakes, and an M Quad Exhaust setup in the rear deliver stand-still confidence. The 21-inch Competition-specific wheels seal the deal here. With the proportions creeping up inch-by-inch, the interior benefits the most. More space means you won't feel claustrophobic when you're breaking 140 MPH on MMC's front straight. It also means backseat passengers will get a little more leg room and a spacious trunk for all your grocery runs, hangouts, and weekend escapes.
STEP INSIDE
In terms of luxury and refinement, the X3 M Competition and X4 M Competition have one of the best interiors in their respective segments. Rich leathers, two-tone finishes, and a meticulous attention to detail give us a cabin that's built with class. Even with pops of yellow or red on the M Sport seats, nothing feels in your face. BMW's new interior design language is rooted in removing clutter that a little infusion of vibrance gives it more life. And those red M1 and M2 tabs on the steering wheel will get your attention before you even have a second to reach for the Start button. The 12.3" screen of the M Dynamic digital instrument cluster adapts to your driving mode while still delivering all the essential info necessary. The HUD's been updated as well. It's this balance between sport and luxury that makes BMW's latest M-specific cockpits so special. Apple CarPlay compatibility, a Harman Kardon surround system, Active Driving Assistant, which includes Lane Departure Warning, Frontal Collision Warning, City Collision Mitigation, and more are all on board here with the majority of amenities coming standard.
In the end, I'm not sure how many actual track days the X3 M Competition and X4 M Competition would attend but the fact that they could and still hold their own reminds us that BMW's not done making driving machines and they're going to keep coming, even some in shapes and sizes we just won't expect. And that's okay by us.
Check out more from our time with the X3 M Competition in the galleries above and scroll below to see some visuals of the X4 M Competition courtesy of our friends at BMW. brethren in the gallery above and expect them to land in showrooms next month.