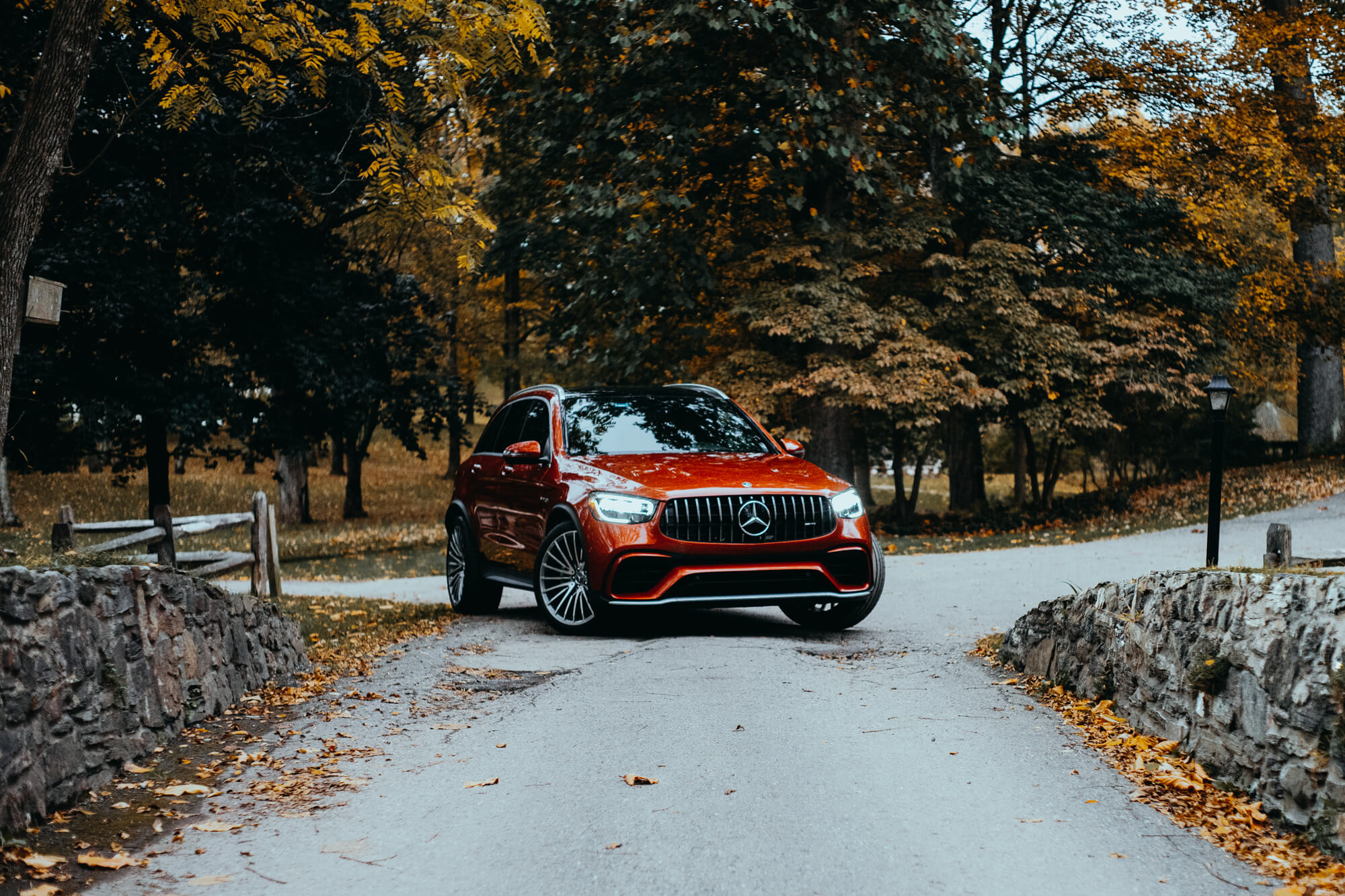 2020 Mercedes-AMG GLC 63 is the Fast, Versatile SUV for Parents Looking to Stay Sane with Scattered, Over-scheduled Kids
Photos and words by Atif Kazmi for Por Homme
In America, the suburbs aren't dying, at least that's what researchers at Mercedes-Benz are telling us. Instead, they're expanding and the 2020 Mercedes-AMG GLC 63 and GLC 63 S Coupe are here to quickly shuffle your active family from one ambition to the next.
The 'burbs have been hated on for quite sometime. As urbanization has swept the land, living outside the city's been looked down upon. The reality is that the suburban lifestyle's not as bad as folks have it out to be. And if you're thinking about or just starting a family, things like space, security, and convenience might all be pulling you out of that 600 sq. ft. apartment in Lower Manhattan to something more comfortable 30-40 minutes out.
The number of folks working from home at least some days during the week is growing, spawning super commuters that are able to take advantage of city opportunities while still making it home to escape the craziness. Those that can skip the city altogether are building lives in more rural areas, staying close in proximity to family, friends, and work.
Nowadays, kids seem to have busier schedules than us, jetting from one after school activity to another. From school to piano lessons to soccer tryouts, specialties have them scattered as well. Points of interest are spread all around town and sprinkle in your own needs for work and leisure increase the things we demand from our daily driver. The SUV continues to rise to the top and it continues to win out where it matters the most — suburbia.
Success of the Mercedes-Benz GLC 300 might be proof enough, with its rapid rise to becoming the number one selling SUV and overall car for Benz, overtaking the C-Class. It's balanced versatility with luxurious detailing and plenty of tech to already become the car of choice for so many. The mid-model refresh for 2020 takes things even further. Though subtle, the front fascia's hosts a number of changes including a more aggressive lower front design and the headlights coming in closer to the grille to create an "A" shape that's consistent with many of the new Mercedes-Benz cars. Like the fronts, the rear taillights now also feature LED optics that help to elevate the GLC well beyond its class. The 2020 Mercedes-AMG GLC 63 gets an AMG grille and a jetwing design on the lower part of that front bumper. Wheel options for the GLC 300 range from 18-to-20 inches while the GLC 63 jumps up to 21 inches. The GLC 63 S Coupe gets much of the same but with its signature swooping roof styling for added maneuverability on the road.
We drove both the 2020 Mercedes-AMG GLC 63 and the GLC 63 S Coupe through New York's Putnam and Duchess counties, giving us the opportunity to feel the power Mercedes-AMG is pushing through the two SUVs. Handcrafted AMG 4.0-liter biturbo V8s can be found under the hood of both, but the GLC 63 S Coupe breaks the 500 horsepower mark while the GLC 63 still carries a healthy 469 horsepower number. Both let you feel it when you punch the pedal but it's worth noting the GLC 63 S Coupe has a 3.6-second 0 to 60 mph time, two-tenths faster than its GLC 63 sibling.
Regardless of weather, the Mercedes-AMG GLC performs with confidence. The rear differential lock is now electronically controlled as standard so that helps to achieve more precise handling and better control as you're flying through elevation changes and winding roads. AMG Performance 4MATIC+ AWD with fully variable torque distribution helps push the GLC 63 to its limits but AMG Ride Control sport suspension helps tremendously with stiffening things up as you're hitting the back country roads.
Step into the cabin and that's where you begin to see Mercedes inject some of their latest tech to seamlessly blend what the owner's doing in the rest of their lives with the journey they're about to take inside the GLC. The Mercedes-Benz MBUX infotainment system is standard here and lives through a 10.25-inch center touchscreen display. "Hey Mercedes" natural language understanding is on board as well, allowing you to simply say the prompt and ask it to do everything from finding the nearest coffee shop or finding other points of interest. Navigation now has augmented video, an industry first which overlays directions atop a live video feed from the GLC's front camera. The multimedia package with navigation and AR is standard for the GLC 63 as is the 12.3-inch digital instrument cluster.
Surrounding the tech is tasteful execution. The upper dash features contrast stitching alongside aluminum trimmings. Sport seats are standard here and they look great but the Mercedes-AMG performance seats are hard to pass up. The seats in the rear fold flat to accommodate for more groceries, home goods, and whatever else you'll need to toss in while a power lift gate makes loading and unloading a heck of a lot easier. If you open your door before scanning for traffic, Mercedes' blind spot assist with exit warning stays active for three minutes after shut off of car so it'll stop you from opening the door in case there's a cyclist or car flying by.
The 2020 Mercedes-AMG GLC 63 and GLC 63 S Coupe get a mid-cycle refresh that wins with details. See more in the gallery and head to your Mercedes-Benz showroom to experience it in person.