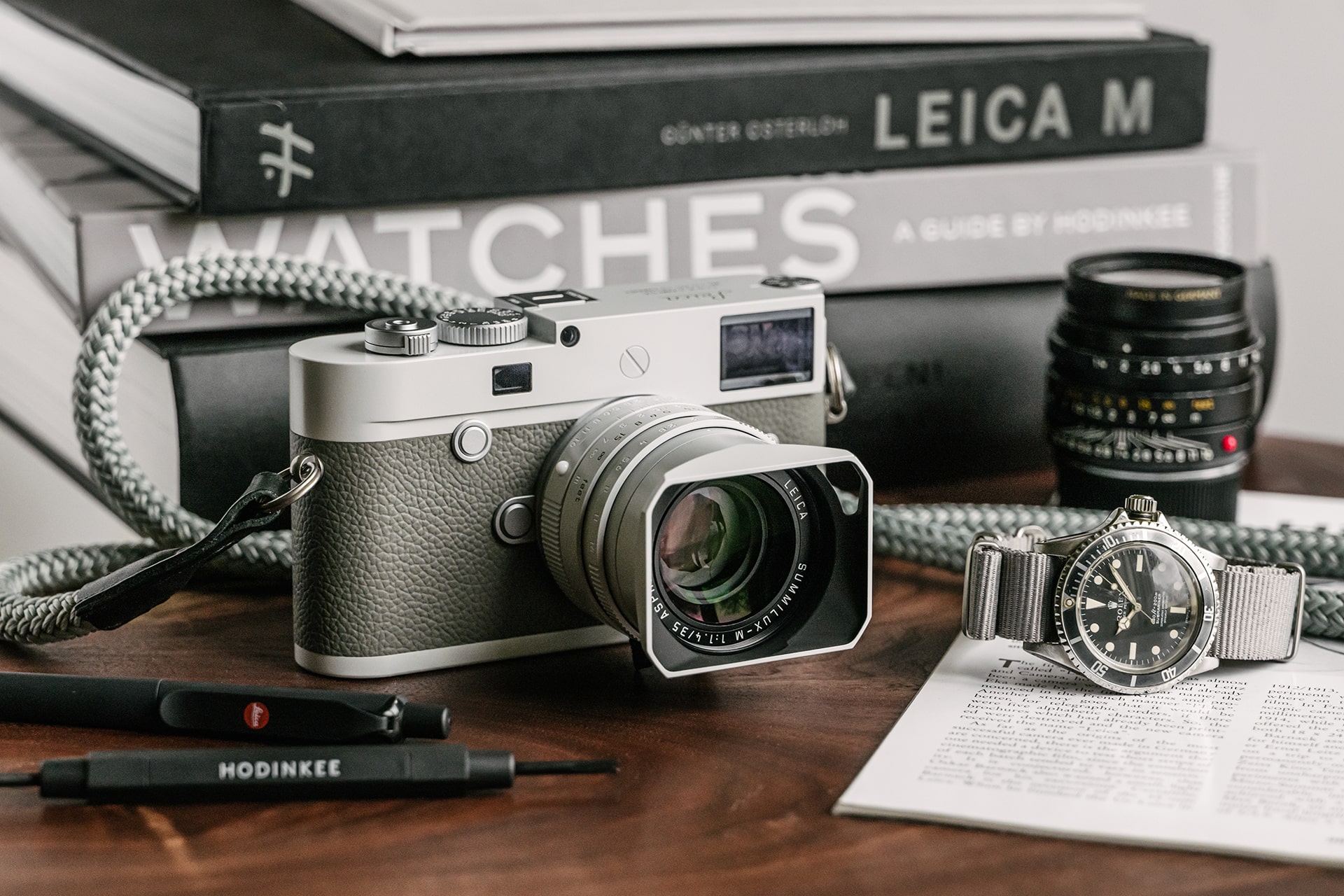 HODINKEE's Collaboration with Leica for M10-P 'Ghost Edition' Puts Them in Company with Hermès and Zagato
The list of brands to ever have collaborated with German camera maker Leica is short. 2012 saw the brand partner with Hermès for a limited edition Leica M9-P while the M10 Edition Zagato was introduced last year, effortlessly blending the best of German craftsmanship and Italian design. Their latest collaboration is with HODINKEE, the lifestyle brand that's become a household name for all things watches. The Leica M10-P 'Ghost Edition' is a limited release with inspiration coming from HODINKEE founder Ben Clymer's first vintage dive watch he ever purchased in his early 20s. The watch began its life in stainless steel with a rich black dial and bezel, with markers that were bright white and luminous. Its journey's been a long one. Through witnessing much of Ben's own progression, it's also seen plenty of sun and exposure. The dial and bezel have faded to grey, the markers turned to cream, and the shine disappeared. The watch has "ghosted," but in its place are markings of a life well lived.
It is my sincerest hope that each owner of the Leica M10-P 'Ghost Edition' For HODINKEE will build their own story with this special edition camera, just as I have with the watch that inspired it. – Ben Clymer
The Leica M is the foundation here, an iconic camera that's been the tool of choice for creatives such as Henri Cartier-Bresson, Bruce Davidson, Ray Barbee, Ralph Gibson, and many many others. For the Leica M10-P 'Ghost Edition' For HODINKEE, the traditional magnesium alloy chassis of the M is capped with a rich brass top plate and bottom cover and then painted the old-fashioned way in a warm grey finish. The center section is then wrapped in a cement-colored leather, accented by white and grey colored engravings. The longstanding red alignment dot on the matching grey 35mm Summilux-M lens is now white, and the lens comes with a beautiful matching hood. As a final touch, the camera comes paired with a grey nylon Leica rope strap.
Limited to just 250 Ghost Edition sets worldwide, each camera is individually numbered on the hot shoe, while a small nod to the inspiration of this camera lives underneath the battery compartment cover. They will be available in select Leica stores and Leica boutiques around the world, as well as through HODINKEE Shop now. The full set is $14,995 and comes with a complete 2-year warranty. Buy it through the HODINKEE Shop and just like the watches they sell, an additional year's warranty will be added at no additional cost.
See more of the Leica M10-P 'Ghost Edition' For HODINKEE in the gallery and buy it now through HODINKEE Shop.