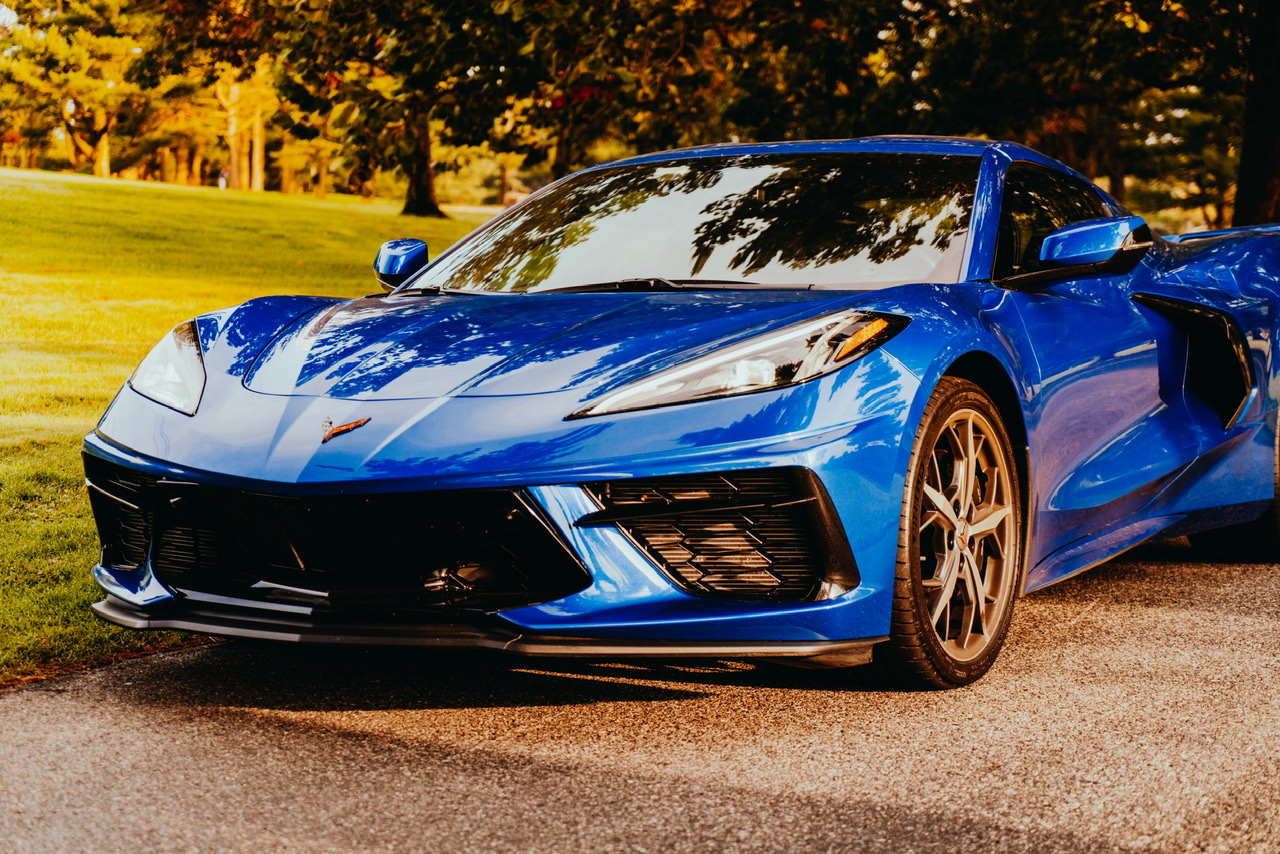 Words and photos by Atif Kazmi for Por Homme
Last July, I was invited to LA for the official unveiling of the all-new Chevrolet Corvette. All was looking good until inclement weather delayed and ultimately cancelled most flight options to make it there in time. While most of my media colleagues were at the hangar, I was forced to watch it all go down from the discomfort of my living room via livestream. Fast forward a year and change and I've finally gotten the chance to experience the all-new Stingray in all its glory and the timing couldn't have been better.
Finished in a metallic Elkhart Lake Blue finish, this is the first-ever mid-engine Corvette. During a morning drive to my local coffee shop, the first reaction I got was, "Wow, so they really did it, huh?" Yes, yes they did. Their execution is the most attainable, mid-engine sports cars on the market which has brought with it a ton of talk around who it appeals to and who it's competing with. The short answer to both questions is everyone. It's angular, aggressive and moves swiftly. There's a reason you can track G-Force right in the digital cluster. With very little front and rear overhang, the engine positioning just feels natural. The taillights are large yet distinct and the Lake Blue color contrasts well with the gloss black details we see throughout the entire body.
The Stingray in our possession was equipped with the mid-tier 2LT package which brought a perfect blend of technology and convenience. The front curb view camera, rear cross traffic alert, and side blind zone alert help to protect the car and, more importantly, those around it. With visibility as limited as it is in the new Corvette, the rear view mirror integrates with a rear-mounted camera to give you a clear look at what's happening behind that monstrous mid-mounted engine.
The $5,000-Z51 Performance package delivers the punch. The package-specific brakes, suspension, exhaust, and rear spoiler give this new generation a confident look and plenty of sound and stopping power to boot. Given just how much you're getting for five grand, it's the one option box that just has to be checked.
I've been saying this since the introduction of the previous generation Stingray and it holds true with the C8 generation as well: Corvette's making a premium cabin that's rich in detail with just about every crevice wrapped in high-quality leather. Contrast stitching can be seen throughout, including the door panels. The GT2 bucket seats feature much of the same and get perforated detailing and plenty of carbon fiber to go with it. For one of the most driver-centric interiors ever, each element — from the positioning of the infotainment screen to the string of climate control buttons — is deliberate, even if it takes a little getting used to.
The ELSD and performance-oriented rear axle ratio are both meant to tame the beast but there's no doubt the new Corvette is anything but. With a 6.2-liter V8 that churns out 495 horsepower and 470-lb.-ft. of torque, it catapults from 0 to 60 mph in just 2.9 seconds as it climbs to a top track speed of 194 mph. Where many of today's high-performing sports car are being guided primarily by new-age technology, the Corvette still has a mind of its own. Press too hard and that back gives out and just as your smile might start to fade, a quick downshift brings it right back. The numbers look good on paper but translate even better when rubber meets the road.
My experience with the 2020 Corvette Stingray was as much about how it made me feel as it was about the reactions of every person it crossed paths with. And those driving slow to snap a photo or talk to me at a light or hit a U-turn to catch me at a coffee shop range were diverse in age, gender and ethnicity. The newest Corvette is the people's sports car and one we can all agree on.
See more of the mid-engine Corvette Stingray in the gallery and head to your local Chevrolet dealer to experience it in person.