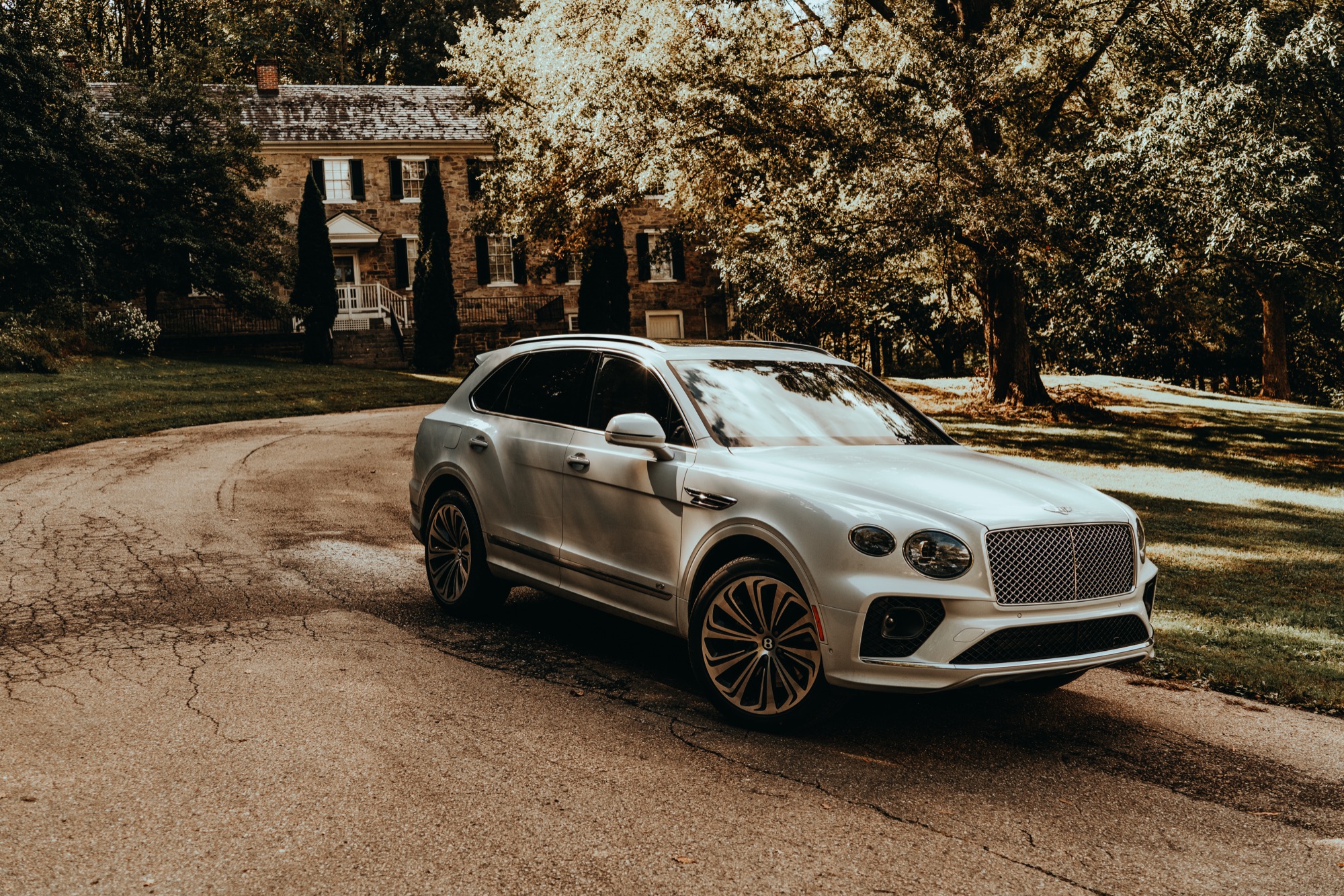 The 2021 Bentley Bentayga V8 Reminds Us That Life's Greatest Luxury Should Be Enjoyed Together
Photos and words by Atif Kazmi for Por Homme
They say if you want to go fast, go alone but if you want to go far, go together. With the newly redesigned Bentley Bentayga, you can do both. With each moment I spend in the British automaker's luxury SUV, I'm reminded that life's greatest luxury — time — should be enjoyed together. With family, friends and everyone that inspires us to move with purpose. 
Having had the Bentayga a few times now since its release, I've seen just how well it adapts. The Ice White contrasts well to each and every leaf that sparingly touches it as you float through country back roads. Take the Mulliner-specific Claret instead and a more subtle finish is still rich in detail. Toss Bentley's own Roof Box into the mix and you get more space for longer hauls and even more attention. The swooping design of the Roof Box matches that of the new Bentayga, making it a perfect companion for whatever adventure you choose. 
Bentley's ethos is rooted in choice and allowing customers to build a Bentayga that's their own is a constant mission. And given this is luxury meant to be enjoyed by the whole family, Bentley has several seating configurations to meet your needs. Setups go from an executive-centric captain setup that lavishly seats two folks in the back to a more standard three-seater to adding a third row in the back. Every other SUV in the segment seems to have its fair share of compromises while the Bentayga simply doesn't. 
Customizing a Bentayga goes well beyond the seating configuration, especially when Bentley's bespoke house is there to bring any dream to life. We've seen the imprint's capabilities firsthand, from the 22-inch Mulliner Driving Specification wheels to LED Welcome Lamps alongside a host of other details. Bentley's extensive range of ethically-sourced veneers blend with rich leather hides, providing an infinite range of possibilities for how you want your cabin to look and feel. Cricket Ball has been a personal favorite for as long as I can remember and seeing it flood the interior of the new Bentayga just feels like the perfect juxtaposition to a lighter exterior. 
The best seat in the Bentayga is, well, every seat. Redesigned seats help to elevate an already luxurious cabin and increase the rear legroom as well. All five seats get heating and cooling options while rear passengers can quickly grab the five-inch touchscreen remote control to adjust things further. Through the tablet, you adjust the rear-seat heating and cooling, massage settings, what's playing through the Naim audio, inputting your destination into navigation and so much more.
Bentley's next generation, 10.9-inch infotainment system is perfectly blended into the Bentley 'wing' dashboard design. Wireless Apple CarPlay and Android Auto are both standard as are USB-C data ports and a wireless phone charger. The new Bentayga also comes with an embedded SIM so My Bentley connected car is fully active without the need for customers to provide their own data connection.
With Bentley already announcing their intention to only sell electric vehicles by 2030 and their first all-electric to arrive in 2025, it's no surprise the powertrain options for the new Bentayga. Though we've seen the coach builder lead with W12 work horses in the past, this generation of the true luxury SUV leads with a 4.0-litre, twin-turbocharged V8 that churns out 542 horsepower and 568 lb.-ft. of torque. It's more nimble and gives the Bentayga a more athletic, agile drive. A plug-in hybrid variant is also in the lineup as is the Speed version which is powered by the brand's W12 engine. 
See more of the new 2021 Bentley Bentayga in the gallery and head to your nearest Bentley dealership to experience it in person.